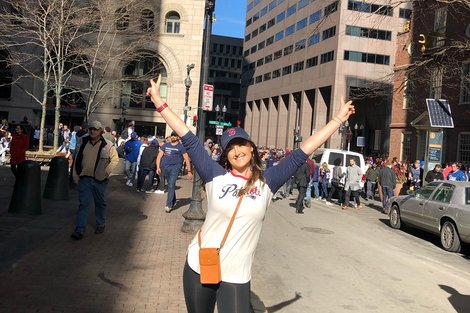 Story Series
News Feature
Wearing a Patriots shirt, Kellie Nostrant fit well into the crowd packing Boston streets for the recent Super Bowl parade – at least until you found out she's not a fan of the team.
In fact, she's not much of a football fan at all, and her home state doesn't even have an NFL team. So why did she join the throngs of exuberant New England football fans?
"It was a 'When in Rome' kind of thing," said Kellie (pictured above), an Eastern Oregon University senior studying at Bridgewater State University as a domestic exchange student. "I went with my roommates (who are Bridgewater students). They'd been to multiple parades before. They were excited to take me and it was a lot of fun." 
Kellie is among five students spending the semester at BSU through the National Student Exchange, an organization that partners with American and Canadian schools. The initiative, which BSU has been part of since 1998, is similar to a foreign exchange program.
Bridgewater students like to visit Hawaii and Puerto Rico through the exchange, said Jen Currie, G'17, associate director, International Student & Scholar Services.
"It's an opportunity for students to get a different experience at a different U.S. university, especially if they can't afford to fly abroad," Currie said.
Those spending the semester at BSU wanted to experience Boston, scout out potential law schools, and explore a different part of the country. They praised Bridgewater students for going, as Kellie put it, "above and beyond" to help the visitors adjust.
"I was nervous because I hadn't been far from home," said Mark Guzman, a Kansas resident and Wichita State University student. "This is the longest period I've spent outside my home state."
But, Guzman finds the time flying by, now that he has adjusted to campus. Fellow Wichita student and Kansas resident Luz Aguirre found a home away from home in BSU's La Sociedad Latinx.
The visiting students attended orientation with international students, a process that eased fears of being away from home.
"If they can do it, I can do it," Luz said.
Students said they help diversify the campus and are a resource for Bears who are considering an exchange program and want a first-hand perspective.
"It's an opportunity to explore what else is out there rather than just exploring what I'm used to," said Quincy Ryan, a student at the University of Colorado Colorado Springs, of spending time at BSU. "It's breaking out of my comfort zone." (Story and group photo by Brian Benson, University News & Video)
Do you have a BSU story you'd like to share? Email stories@bridgew.edu.