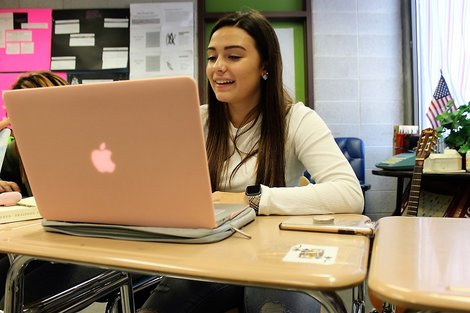 It teaches us college is tough, but it's not hard enough you can't get it done. You just have to put your mind to it.
Story Series
News Feature
Savannah Melo once wondered if college was right for her. A new partnership between Bridgewater State University and her high school, B.M.C. Durfee, has given her the confidence to answer yes to that question.
"I was really nervous if I could do it, if I'm smart enough," said Savannah, a junior who wants to be a pharmacist and is taking college English and public speaking classes at Durfee through the partnership. "I'm getting a taste of what college is like. That motivated me. If I just put my mind to it, I can do it."
Savannah is among roughly 43 juniors and seniors participating in the program, which launched as a pilot this spring and serves those who show great promise but need some support. Students, some of whom would be the first in their family to graduate college, understand what professors expect and earn credits that will save them money when they get to college. Some want to attend Bridgewater.
"I think this is a trailblazing effort," said Durfee Principal Matthew Desmarais. "It's only going to serve to benefit our students in a great way… They'll leave here with the skills they need to succeed in college. It's not going to be a mystery."
The initiative came about from a conversation last year between BSU President Frederick W. Clark Jr. and Fall River Superintendent Matthew Malone.
The dual enrollment program is different than traditional ones because the English, public speaking and statistics classes are taught at Durfee by college and high school instructors. That eases the transition for students because they have a familiar face in the classroom.
"They get exposed to what it's like in college classes, but they have supports available while they are still high school students," said Durfee English teacher John Saurette.
Saurette teams up with James Norman, '07, of BSU's Department of English, to teach Writing Rhetorically. The curriculum mirrors what students learn at BSU.
Norman, who came to a recent class sporting a bandana headband and clearly visible arm tattoos, dispels the myth that all college professors wear formal suits. He mixes humor with writing lessons and advice on succeeding in college.
"I'm not sure they all felt this is for them at the beginning," Norman said. "Now, we're at the point everyone loves coming to this class. More of them are like, 'College is for me,'"
Lucas Roque, a senior taking BSU public speaking and English classes at Durfee, is more confident about his speaking abilities and attending college thanks to the program.
"It teaches us college is tough, but it's not hard enough you can't get it done," Lucas said. "You just have to put your mind to it." 
Do you have a BSU story you'd like to share? Email stories@bridgew.edu