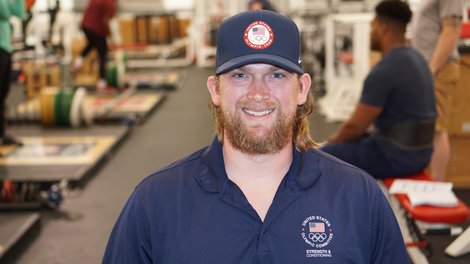 Story Series
News Feature
When Samuel Gardner, G'10, considers the unprecedented role he plays with the U.S. Olympic Committee he credits one particularly enthusiastic Bridgewater State University professor.
"I had taken a USA Weightlifting course that Dr. Ellyn Robinson was hosting and blown away by not only her breadth of knowledge but also by her dynamic and charismatic personality," Gardner said. "I could tell she was an extremely gifted professor that could create strong connections."
Under the guidance of Robinson and other BSU faculty, Gardner earned his master's degree in physical education and strength and conditioning.
"Sammy is a student that I will always remember," Robinson said. "I remember his ability to relate to others, his wit and genuine goodness."
Today Gardner is the first-ever full-time sports physiologist and strength-and-conditioning coach for the United States Paralympics under the United States Olympic Committee. He helps train 110 resident U.S. Para-athletes across the country. They compete in sports ranging from track cycling, road cycling, swimming and Nordic ski.
"I am very passionate about helping athletes get from one point to another in their athletic journey," Gardner said.
Robinson is not surprised to see her former student working successfully at the Olympic level.
"He was a student full of questions, curiosity and a hunger for learning," she said. "Sammy was engaged in each and every single extra activity that we did in the program, his reluctance to hurry as today's times dictate was one of the many things that allowed him to forge ahead in our field of strength and conditioning."
Looking back at his time at BSU, Gardner credits Robinson for preparing him for his career.
"She challenged me to think critically, which was a huge part of my development," he said.
Many coaches whom he has come into contact with possess the ability to recite a textbook response when presented with a problem, but very few are able to access a situation and think critically.
"This is a very important skill in my line of work and one that seems too often be neglected by other programs," Gardner said.
Robinson is honored to be remembered so fondly.
"It is always nice to hear the little reminders about what we do in the trenches of academia to assist and guide our students to get to the great places that they deserve to go," she said.
Do you have a BSU story you'd like to share? Email stories@bridgew.edu