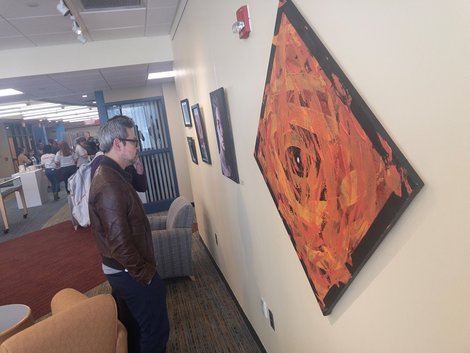 Story Series
News Feature
From now through April 25, visitors to Bridgewater State University's Maxwell Library will be treated to a visual display featuring work by some of the school's top student-artists.
Bridgewater's 55th annual art student exhibit features both the work and handiwork of students.
Judging what student work gets accepted into the show is done by department faculty, then the class collectively curates all the pieces to be displayed. Meanwhile, those enrolled in Professor Mary Dondero's Business Issues for the Visual Artist are responsible for bringing the exhibit to fruition.
"The students make all the decisions on how the exhibit is organized, from soup to nuts," Dondero said. "They must set up and receive the works, organize them and prepare to show the first round of judging."
New Bedford Art Museum Curator Jamie Uretsky judged the accepted pieces for specific awards.
Anthony Abi-Saad, '20, is one of the students who worked on the project.
"It's important for students to be in charge of an event like this," he said, "because it gives each of us a real-life experience of event planning and cooperating with other team members. It gives me a sense of accomplishment and involvement within the BSU community."
Jake Wade, '20, encourages members of the BSU community to take in the exhibit.
"I hope when the audience comes to view these pieces of work they leave seeing what the Bridgewater State art students can produce," Jake said. "We are well known for our education departments and overall ability to have students leave as great professionals, but I hope they know how special the art students are."
The following are the winners for the 2019 Annual Art Student exhibit;
Best in Show: Harley Silva for "Repition"
Best 2D work: Kayla DaCosta, "Affection"
Best 3D work: Alyce Pina, "Broke In"
Best time-based work: Samantha Cushman, "Stagnant"
Emerging artist to watch award: Ethan Dupont, "Small world tribute to Mac"
Student Choice Award: Kayla DaCosta, "Affection"
Honorable Mentions: Grayson Rizzi, "Teapot"; Kyla Wilkey Hullum, "small blue and white ceramic"; Shelly Phillip, "Internal Tsunami"; Jake Wade, "Displayed Persona" (Photos by Carl Hollant)
Do you have a BSU story you'd like to share? Email stories@bridgew.edu