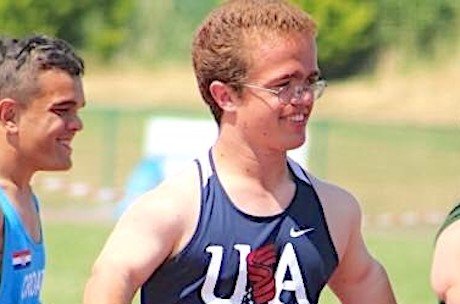 Story Series
News Feature
Last month, while most Americans were celebrating the Fourth of July stateside, Joshua Winsper, '20, was in Athlone, Ireland, creating some fireworks of his own.
Representing Team USA at the International Wheelchair & Amputee Sports Youth Games, Joshua took home the bronze medal in the shot put and the silver in the javelin. He recorded a 27.97 foot (8.53 meters) throw in the shot put and an 80.09 foot (24.42 meter) effort in the javelin.
A tough competitor, the Rochester native was hoping to take home the gold in his first international competition. 
"I could have done better… The throws are what they are. It was a learning experience and I learned a lot. That's the main thing I take from it," he said. 
He will use the experience and apply it to his ultimate goal of qualifying and competing on the world stage in the Summer Paralympics in Tokyo 2020. 
"Standing there on the medal stand, I thought, 'OK, this is what it would feel like if it was the real deal.' I realized that I have a chance so I'm going to try and take it," Joshua said. 
In the meantime, he will continue to suit up and compete as a Bear the next two years under BSU track and field assistant coach Alfred Blaisdell.  
As he trains for his chance to compete in the 2020 Paralympics, Joshua's short terms goals are to compete in next summer's Paralympics Track and Field National Championships.
During the meet, he will aim to put up marks that will qualify him to compete in the 2019 Parapan American Games in Lima, Peru.