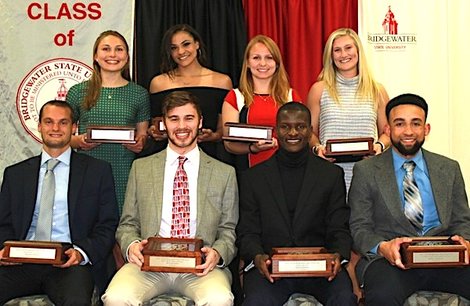 Story Series
News Feature
The Bridgewater State University Athletics and Recreation Department held its 32nd Annual All Sports Banquet Tuesday, honoring various teams and players for their athletic and scholarly achievements.
Interim Director of Athletics Michael Storey emceed the event.
President Frederick W. Clark was on hand to present the Dr. Adrian Tinsley Scholar Athlete of the Year Award to Elizabeth Ettridge (lacrosse)and Rocky DeAndrade (basketball).
See photos of all award winners here.
Former Director of Athletics, John Harper, returned to present the Athlete of the Year Award, which was renamed in his honor, to standouts Jayci Andrews (track & field) and Richard Smith (swimming and diving).
Other major award winners were Rookies of the Year, Ellie Bucknell (track & field) and Gilley Kabamba (track & field); Lee Harrington Unsung Hero Award recipients, Haley Riley (lacrosse) and Michael Kotleski (track & field); Athletic Training Student of the Year, Kassidy Campbell (undergraduate); and the Student-Athlete Leadership Award recipient, Rocky DeAndrade (basketball).
Also honored were more than 140 student-athletes who maintained at least a cumulative GPA of 3.3 or who earned dean's list honors for the fall 2017 semester. The 2017-18 team captains and senior student-athletes/trainers were honored as well as the members of Chi Sigma Alpha (National College Athlete Honor Society).
Associate Director of Athletics Susan Crosby-Tangen announced the Team Academic Award winners. The women's lacrosse team had the top grade point average, checking in at 3.43; while the men's tennis squad was recognized for its GPA of 3.26.
Also in attendance at the annual event were Interim Vice President of Student Affairs Dr. Margaret Jablonski and Acting Executive Director of The Wellness Center, Dr. Marybeth Lamb. Dr. Jablonski presented the Lee Harrington Unsung Hero Award winners, while Dr. Lamb presented the Rookie of the Year awards. (Story by Michael Holbrook for University News)