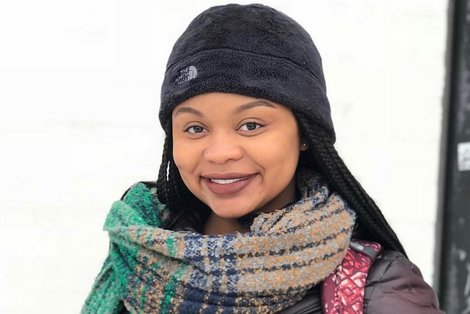 Story Series
News Feature
[Editor's note: This is the final of four stories marking Black History Month.]
Adama Bah, '21, makes sure to smile when she walks across the Bridgewater State University campus. Chances are fellow Bears will smile back, since, no matter the color of their skin, they share a bond.
"Bridgewater provided me a family that I didn't know I needed," Adama said.
As a Guinean-American, Adama is not shy about sharing her culture and talking about life at BSU. Which makes sense, seeing that she is president of the university's African Student Association, an organization that aims to educate people about Africa.
"I think it's important because there are people who identify as African on campus and I want them to have a safe space," she said of the club. "I also want students who don't (identify as African) to learn about Africa. The best way to learn about someone's culture is to dive deep."
Founded in 2010, the association hosts fashion shows and other programs, and hosts meetings where members discuss current events and more. The goal is to make sure students understand Africa as a diverse continent whose citizens have successes and face challenges.
Adama (pictured at right) also connects with prospective Bears by talking to students of color who visit BSU's Center for Multicultural Affairs. She tells them it can be challenging to be on any campus where they are the minority. At BSU, the center is a safe place for people of all backgrounds, she said, while campus clubs introduce students to a variety of cultures.
"Even though you might not see someone who looks like you, a lot of these students do come from the same background," she said.
Adama, whose family moved from Georgia to Boston, fell in love with BSU when she toured campus. She's switched majors several times, ultimately settling on social work, as she aspires to work in a higher education diversity office. Despite her winding journey at Bridgewater, she found support from President
Frederick Clark Jr.
, faculty, staff and fellow students.
"Everyone makes you feel like 'Hey, we're all in it together," Adama said. "The fact that our president walks around and knows all of us, I think that is something Bridgewater has that no other school has."
These things, as well as Adama's experience after the New England Patriots recently won a sixth Super Bowl – after which she and her fellow students embraced and rejoiced in their shared joy – make the campus feel like a special place where everyone is connected.
"We were super excited, holding each other," she said. "These are my Bears. This is my family." (Story by Brian Benson, video by Kelsea Marciarelli, '19, University News & Video)
Do you have a BSU story you'd like to share? Email stories@bridgew.edu.