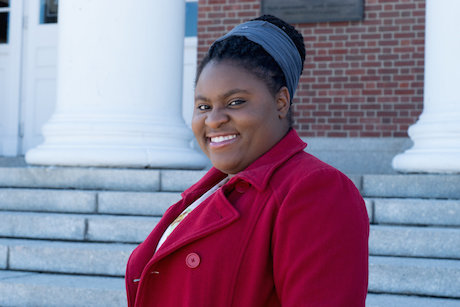 Story Series
News Feature
Determination helped Daniela Belice, '17, beat long odds after immigrating to the United States. Now, the political science and sociology double major is determined to do what she can to making those long odds shorter for the next generation of newly arrived immigrants.
Daniela, who moved from Haiti just one month after a devastating earthquake crushed her home city of Port-au-Prince in 2010, did not speak English when she arrived in Massachusetts. But seven years later, she's on the precipice of graduating with honors. Speaking of honors, the Brockton High graduate was recognized at the Massachusetts Women in Public Higher Education's 35th annual conference on March 31, where she received a Student Achievement Scholarship Award.
That award recognizes women who have overcome significant personal barriers to achieve academic success. The description fits Daniela to a "T." On the way to success in the classroom, though, Daniela has not forgotten about those who must face down their own obstacles.
The Brockton resident has set a career goal of working as an immigrant advocate and liaison. She's already started down that path, having previously volunteered with the Wilson-Fish Office of Resettlement. She has also worked with migrant farm workers in Florida, and written a research paper examining the deportation and detention of parents of United States citizens. 
Now Daniela, who is minoring in Spanish and civic education, is also participating in BSU's honors program researching immigrant lives and their contributions to the healthcare sector. The senior also helps people fill out citizenship forms at a local immigrant-focused organization.
Clearly, the inspiration to study these topics stemmed from personal experience. But Daniela — who hopes to go on more service-based trips, even after graduation — said BSU's environment motivated her to explore her passions as a career path. 
"BSU gave me an opportunity to expand my horizons by providing rich learning opportunities and challenging me to produce creative work that I will carry on beyond graduation," said Daniela, who listed courses in public policy, Middle Eastern societies and sociology, and social movements as her favorites at BSU.
"Attending a public higher education institution such as BSU has added value to my educational life," she said.
Her family's, too: Daniela is the first in her family to attend college, but her brother is just a couple years behind her — and he's heading to BSU to study criminal justice.
"Bridgewater serves a lot of communities and you don't know who needs what if [immigrants] aren't always open to talk about it," said Daniela, who supports herself with a job at the Brockton Public Library. "It's important to have resources for immigrants and let them know where they can find help."
Much of that story began for Daniela in high school, when she volunteered as a translator in Brockton Hospital. At first, Daniela wanted to be a doctor so that patients of Haitian descent would always possess a clear understanding of their health. But then Daniela began to wonder how she might be able to impact them outside of the medical field, too.
"Being a doctor is not exactly what my heart wanted; I wanted to work with immigrants such as migrant workers, asylum seekers, detainees and children," said Daniela, who speaks Haitian Creole fluently and understands some Spanish. "This is the work I'm interested in doing. I want to become a helper. (Story by Charlie Peters, University News and Media; photo by Widmaer Fleuransaint, '18)