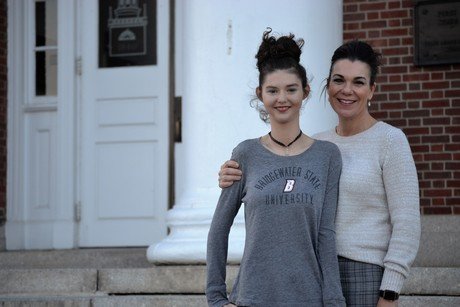 Story Series
News Feature
Looking at her today, it doesn't seem possible that going to college was once an uncertainty for Gina Anderson.
Often graduating high school seniors don't think twice about continuing their education, but Gina had some perceived limitations that almost diverted her.
Not only is Gina deaf in one ear, but she also has intellectual disabilities that require medication. 
"After she graduated from high school, she said she wanted to go to college. I thought; why shouldn't I let her go," said Sarah Anderson, Gina's mother.    
Growing up in Florida, most of Gina's education took place in self-contained classrooms where she participated in special education programs. Attending college wasn't necessarily promoted.
When Gina announced her desire to further her education, Sarah did some research and discovered Bridgewater State University's Inclusive Concurrent Enrollment Initiative (ICEI) program.
The ICEI program at BSU is an inclusive postsecondary program for young adults with intellectual/developmental disabilities. 
Students share the same experiences as their college-aged peers in academics, socialization, career development and independent living. Peer mentors are also in place to help ICEI students whenever necessary. 
Despite the fact that Bridgewater was more than 1,000 miles away, Sarah's interest was piqued and together with Gina, she flew up from Florida to visit campus and learn more about ICEI.
"I didn't know what to expect, but after my interview I thought this is really cool, it's a real college and knew I wanted to go," Gina, 20, said. 
To fulfill Gina's college dream Sarah made the decision to move the family, including Gina's younger sister Elizabeth, 17, to Massachusetts. Sarah found work as a special education coordinator in the Quincy public school district and Gina began her BSU journey.
For two years Gina has enrolled in BSU classes, including American history, western civilization and anthropology, and even opted to move and live on the Bridgewater campus this year where she has a roommate.
"I don't feel like a student with a disability, I really don't. I know I am part of the ICEI program, but I don't see it as a program, I am an actual student," Gina said. 
Aside from taking classes, Gina is also learning to do laundry, clean, and develop time management skills. 
"She has gotten so much more independent, more mature and is better able to advocate for herself," said Kate Jesson, Gina's ICEI educational coach. "She's doing amazing."
It was previously unthinkable that Gina would ever be capable of using public transportation by herself, but that is exactly what she learned to do this fall and often travels on a MBTA train from Bridgewater to Quincy to visit her mother at work. 
"This is helping give her the last push over the hump of things that I can't teach her at home as a mom. 
Through ICEI she is able to have these experiences and get ready for what's next," Sarah said. "This is good practice so she can later live on her own."
After ICEI, Gina plans to embark on a career as a paraprofessional, specifically with non-verbal students. This past summer, she worked with non-verbal students during an internship at a special education preschool.
"I feel a special connection to them, I see myself in them when I was little," Gina said. 
Moving from Florida to Massachusetts to participate in the Bridgewater State University ICEI program has proven to be a positive-life altering decision.
"We changed our whole lives so she could come here and get this experience because I knew what it would do," Sarah said. "People move for their jobs all the time. We moved so Gina could go to school and now she will be working. The ICEI program has given her the independence piece. She has learned skills with natural supports to help her figure things out." 
After mentoring Gina, Jesson is confident she will continue to achieve any goal she sets forth. 
"She really is the shining example of what this program has to offer when you take advantage of it," Jesson said. (Story by Heather Harris Michonski, University News & Video)
Do you have a BSU story you'd like to share? Email stories@bridgew.edu.