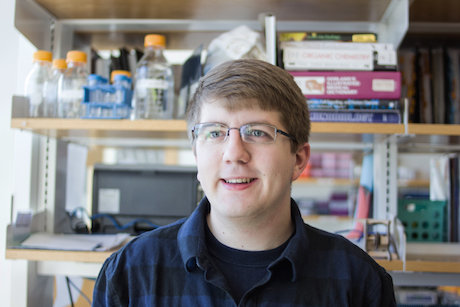 Story Series
News Feature
After more than two years honing his research skills in the biology labs of Bridgewater State University, Jim Kutlowski, '17, is preparing to take his skills to the next level.
The Maynard resident will attend the PhD program in Biology at Texas A&M University. This was after being accepted into similar programs at Tufts University, the University of Michigan and the University of Minnesota.
"It was a tough choice, but definitely a good problem to have," said Mr.Kutlowski, a biology major and biochemistry minor who aspires to work as a university professor, researcher, and student mentor.
"Applying for a PhD program used to be such a far-off, hypothetical idea for me," he said. "I've been planning for it for so long that to actually start hearing from these tier-one research universities is exciting."
Mr. Kutlowski originally planned to become a high school biology teacher. But he said biology professors Jeffery Bowen and Meredith Krevosky, in whose lab he has done undergraduate research for nearly five semesters, inspired him to shift his career path.
"Two summers working at the Marine Biological Laboratory in Woods Hole under the guidance of veteran microscopist Louie Kerr helped fortify that decision," he said.
In the biology classrooms and labs, Mr. Kutlowski said he not only gained the preparation necessary for his future, but also found two role models.
"The learning experience I've had in Dr. Bowen and Dr. Krevosky's lab has been the most invaluable part of my time at Bridgewater," he said, adding, "they both believe in training you to be independent-minded researchers." Following their examples, he hopes one day to be "the same guiding figure" to aspiring biologists that they were for him. (Photo by Ezechiaste Pompilus, '19, University News & Media)