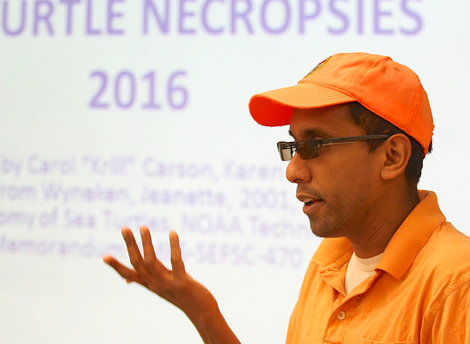 Story Series
News Feature
For his latest research project, Bridgewater State University's Dr. Thilina Surasinghe is returning to his roots.
Dr. Surasinghe, who came to the United States from Sri Lanka in 2008 and has been at BSU for four years, recently received a $5,000 grant from the Chicago Zoological Society to study amphibians in his native country. 
The assistant professor of biological sciences will research creatures of the Knuckles Conservation Area, a biodiversity-rich mountainous rainforest where humans farm. He will work with his long-term collaborator,Sameera Karunarathna, a wildlife biologist with Nature Exploration and Education Team in Sri Lanka, on a study expected to continue for several years.
"We know not all landscapes with conservation values can be protected by the government," said Dr. Surasinghe, who will focus on producing survey protocols, statistical and geospatial analyses, writing and related tasks for his part of the project. "We are interested in studying what kind of wildlife exists in this unprotected wilderness."
The mountain range is isolated, and has unique climate and vegetation with farming taking place particularly at lower elevations. The researchers plan to study all types of amphibians, although they expect to mostly find Old World bush frogs. 
Dr. Surasinghe is also part of a team that received a grant from The Rufford Foundation to study Sri Lankan lizards. Through these efforts he hopes to discover ways humans can better live in the natural world.  
"Without changing land ownership, how could we still promote conservation?" he said. "What is the harmony between human land use and conservation? Does that really exist and, if so, how?"
He added: "We need government-owned conservation lands, but we also want to explore how every individual landowner can contribute to conservation."