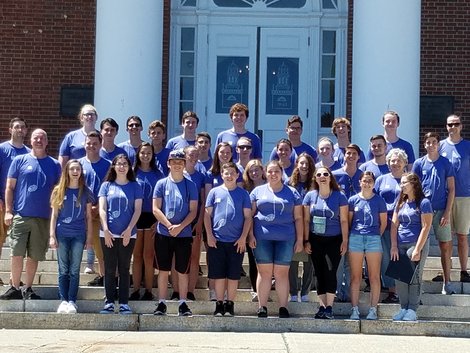 Story Series
News Feature
In the 1930s and 1940s, the Nazis imprisoned approximately 200,000 people at Germany's Dachau Concentration Camp. An estimated 32,000 died. This summer, New England high school and college performers, including one from Bridgewater State University, brought moving music to this place that was once home to so much anguish. Standing in a circle and holding hands, members of the New England Ambassadors of Music sang a spiritual to honor the victims of the Holocaust.
"It was very powerful and emotional," said Dr. Donald Running, an associate professor of music at Bridgewater, who led the ambassadors' European trip.
The group, he said, showcased the good of humanity at a site of the worst of humanity.
The impromptu singing at Dachau came during the ambassadors' 17-day journey. The students, who were recommended to the touring group by their school music directors, took in the sights and performed primarily at churches and parks. 
The singers and orchestral musicians visited cities like London and Paris, and journeyed to small villages such as Crans-Montana, which is in the Swiss Alps. They combined with students from Nevada to form a touring group of about 80 people. Dr. Running conducted the orchestra while a Nevada instructor led the chorus. Bridgewater State student Ezekiel Lewis sang in the chorus.
The musicians performed an American patriotic medley, the Shaker song "Simple Gifts," Van Morrison's "Moondance," and other light pops pieces.
The New England group initially gathered at BSU for three days to learn music and meet one another. 
"This is an opportunity to get kids on campus, making music in a really positive experience," Dr. Running said.
Hopefully, when they consider where to attend college, BSU will rise to the top of the list, he added.
Dr. Running led the trip for the first time this summer and called it "life changing." The students visited places they may never get to see again and connected with their peers.
"They start to realize they're surrounded by musicians from all over New England who are basically exactly the same," he said. "We all have so much in common."
The New England Ambassadors of Music plans to tour Europe again in 2020.