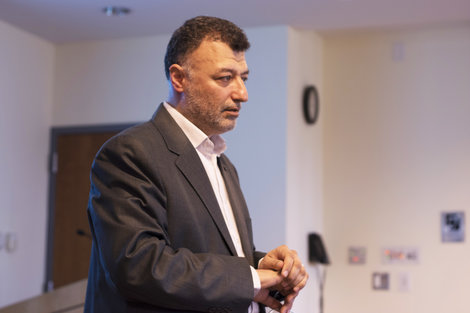 Story Series
News Feature
The world is never short of proof that things change quickly. For instance, on Tuesday, Dr. Mahmoud Hariri, a physician from Aleppo, Syria, who is a Scholar-At-Risk Fellow with Harvard University this year, was on campus to discuss the humanitarian crisis in his country. That same day, Syrian President Assad used on his own people Sarin gas in a highly publicized attack. Two nights later, the United States launched 59 tomahawk missiles, targeting a Syrian airfield.
Tuesday's lecture by Dr. Hariri provided both a history lesson and a report from the front lines of a true humanitarian crisis.
He began his by stating the two questions that as a Syrian native he continually gets: "What's happening in Syria today and is it a civil war or what?" and "Who are the good guys and who are the bad guys?"
The answers aren't easy, and Dr. Hariri traced the history of the Assad regime and the devastation that has wracked Syria for generations. 
"I just present my thoughts as an eyewitness, but you have the right to make your own judgment, it's up to you," he said.
He projected a map of his homeland, a country of six million people, and showed the territorial divisions between Kurdish militants, the Syrian regime, ISIS and the Free Syrian Army. The complications caused by these divisions were self evident and borne out by the headlines dating back to 2013 and beyond.
Dr. Hariri was a teen when in 1980 there was an uprising against the Assad regime, at that time led by the current president's father, Hafez al-Assad. The government then was also known for its oppression and brutality, and those who protested were jailed or worse.
"It was a nightmare," Dr. Hariri said.
Bringing Syrian history up to date, of course, means parsing details of more of the same, especially during the past few years, with President Bashar al-Assad at the helm. Dr. Hariri did not shy away from detailing the atrocities caused by President Assad's use of chemical weapons, replete with horrific images of the attacks on civilians.
Dr. Hariri told of the current regime's practice of targeting hospitals, and the rescue work he and his colleagues have been involved with in the aftermath. He said that 90 percent of the Syrian population has been displaced or simply fled.
While serving at Harvard as a Scholar-at-Risk, Dr. Hariri has been working with several universities and medical facilities in the United States to provide web-based learning materials that can be used by medical students in the rural areas of Syria. Since most of the hospitals in his hometown of Aleppo have been destroyed in the war, medical personnel in these areas desperately need training. 
Dr. Wing-kai To, professor of history and academic director of the Minnock Center for International Engagement, introduced Dr. Hariri and was instrumental in bringing him to campus. He said the lecture provided students with a front row seat to history in the making.
"Most students only hear about Syria from the news, and to them it's a distant place with a refugee crisis," he said. "Dr. Hariri's talk provided a first-hand narrative of the suppression of opposition groups and the dislocation of citizens in Aleppo. It was a sad and moving presentation which really brought home the tragedies of war." 
As for what the future holds, Dr. To, an astute student of both history and current events, said: "It is too early to tell whether President Trump's missile strikes in Syria will have any effect on deterring the use of chemical weapons in the region. It was a symbolic gesture that could lead to more uncertainties in Syria."
The talk was sponsored by the Minnock Center for International Engagement. (Story by John Winters, University News & Media; photos by Widmaer Fleuransaint, '20)