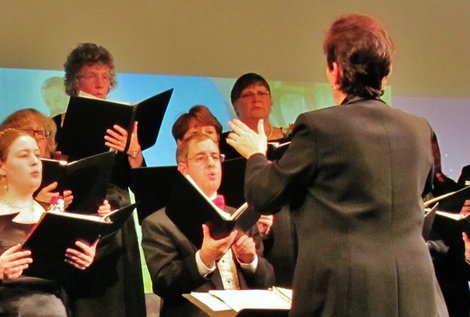 Story Series
News Feature
The BSU Chamber Choir's spring concert on Sunday promises to be bittersweet for its longtime conductor, Dr. Carol A. Nicholeris, who will be taking her final bows.
The BSU music professor has served as the choir's music director since 2000, conducting its four annual formal concerts and its many special performances. She officially retires as director at the conclusion of the concert, which will be held at 3 p.m. at the Center Congregational Church in Bridgewater.
"After nearly 50 years of conducting, it's time to look at other interests," said Dr. Nicholeris, also a longtime composer. "While continuing to teach, this will allow me to focus more on composition."
But Dr. Nicholeris said she will look back fondly on her 18 years with the choir. Sponsored by the BSU Alumni Association, the all-volunteer group consists of a changing roster of about 20 alumni, undergraduates, and area residents, who perform a wide range of songs to accommodate the varied interests of its audiences.
"It's been a wonderful experience," Professor Nicholeris said, citing in particular the chance to work with choir members and to see the enthusiasm the singers and their audiences share for the music being performed.
"It's amazing how much the choral experience means to people," she said.
This enthusiams often reveals itself in unexpected ways.
"We've had some wonderful moments with audiences over the years, things that happen spontaneously. Sometimes it's very touching," Dr. Nicholeris said, recalling, for instance, a concert in which a native Ukrainian was especially moved to hear the group's rendition of a traditional Christmas carol from her country, a song she had not heard in years.
Dr. Nicholeris began composing and conducting as a member of the choir and the drum and bugle corps in high school, and later as a student at Boston University. In the ensuing years, she continued to develop those skills as music director for the Hingham Congregational Church and the Braintree Choral Society, as well as a music teacher at several area schools.
Her many years as a composer and conductor has enhanced her work as a professor, said Dr. Nicholeris, who has taught at BSU for 30 years. 
"It all goes hand in hand," she said, noting that composing and performing provide unique perspectives that go beyond learning musical concepts. "In my teaching, I can draw on that variety of experience because I've done all that." (Story by John Laidler for University News)