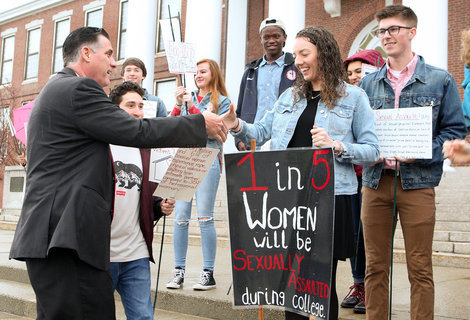 Story Series
News Feature
A head-turning piece of art was temporarily installed on campus this week in order to shed light on the issue of sexual assault on college campuses.
Students taking Professor Margaret Bellafiore's second-year seminar, Art as Activism, were asked to choose a topic and then work together to create a memorable work of public art. 
Sophomore Jonathan Hatchof Pembroke said that after listening to a presentation by Sexual Violence Advocacy and Support Center Outreach's Christy Caisse, the class members were inspired to create a piece that would spark conversations about sexual assault. 
Their research revealed that one in 16 men and one in five women are sexually assaulted on college campuses each year  across the country. The artwork consisted of a simple white clothesline with 16 pairs of black men's underwear, five pairs of black women's underwear and one red pair of underwear pinned to it, representing national statistics concerning sexual assault. 
"We want people to know that sexual assault happens on all college campuses. A lot goes unreported, we want people to speak up and share their stories…if someone was hurt in a car accident they would report it, why wouldn't you report sexual assault?" said North Attleboro's Taylin Shultz, '20. 
The piece was installed near the Moakley Center on Burrill Ave. To help passersby better understand the message, students created signs to accompany the artwork. The signs displayed a wide-range of sexual assault statistics and also featured information on where to find support on the BSU campus. 
The installation was put in place on Wednesday, fitting because that was when people across the country marked "Denim Day," part of a national campaign in honor of Sexual Violence Awareness Month.
"We hope when people see it they know they are not alone and that BSU offers support at places such as the Sexual Violence Advocacy and Support Center. There are resources and support groups," said sophomore Ian Byrneof Salem.
PresidentFrederick W. Clark Jr met with the students at Boyden Hall prior to the installation and thanked them for their efforts, and for creating such an important piece of impactful art.
"When you are trying to make a change sometimes you have to shock the system, and I thank you for shocking the system," he said. (Story by Heather Harris Michonski, University News)