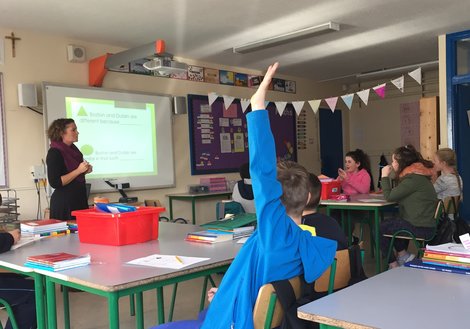 Story Series
News Feature
Eleven Bridgewater State University students preparing for teaching careers are honing their skills in some distant locations this fall – England, Ireland, Ecuador, and Belize.
The students are the latest participants in BSU's International Student-Teaching Program, which provides select undergraduate and graduate education students an opportunity to earn eight of the 16 weeks of required student-teaching in schools overseas.
Through the program jointly run by the College of Education and Allied Studies (CEAS) and the Minnock Center for Global Engagement, BSU partners with schools and universities in foreign nations to provide students with teaching opportunities. Depending on the site, students may live in university residence halls, in an apartment, or stay in the home of a local family. 
Participants in this semester's program, which runs from Oct. 30 to Dec. 21, are Shayla Fullam and Mary Reedy (Crewe, England); Emily McDonald and Angela Curry (Dublin, Ireland); Noah Ferreira, Brianna McCarthy, Katie Bandanza, and Abbey Smith (Quito, Ecuador), and Joshua Dyer, Kristyna Flaherty, and Miranda Messier (San Pedro, Belize). An estimated 26 others are due to participate next semester. Over 10 percent off BSU's student-teachers go abroad each semester.
Read blog posts from participants in the program. 
Established about 40 years ago, the International Student-Teaching Program "has really taken off the last 10 years," during which 185 students have participated, said Dr. Robert MacMillan, professor of special education and faculty fellow for CEAS international initiatives. Dr. MacMillan coordinates the program, working closely with his colleague, Dr. John Marvelle and Mike Sandy, director for Study Abroad at the Minnock Center.
As of next spring, BSU will have students in schools in seven overseas locations, which also include Hong Kong, Shanghai, China, and Zurich, Switzerland.
Dr. MacMillan said that the experience provides students with a boost in their later job searches, as it shows they possess such qualities as being open-minded and adventurous.
"I tell students that, given this experience abroad, their job applications will go to the top of the pile," he said, adding that teaching and living in a foreign country is "life changing" for the students.
While completing her stint as a student-teacher in a third grade at the San Pedro Roman Catholic School in Belize last May, Mikayla Smith, '17, posted on the program's blog site that she was "forever grateful" for the experience. "I have learned so much not only about teaching, but about myself as well."
Concluding her time as a student-teacher at the Leighton Academy in Crewe, England in May 2015, Kellie Carmichael, '15, said she was also positively affected by her experience.
Apart from learning new teaching skills, she said, "I feel that I am more culturally sensitive and aware after this experience, and I hope that I can help my students back in Massachusetts become more tolerant and open to others by bringing this experience into my future classroom." (Story by John Laidler for University News & Media)