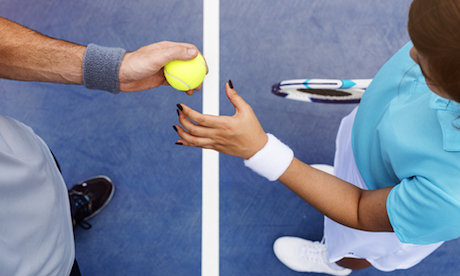 Story Series
News Feature
As soon as next summer, Bridgewater State University will offer a certificate program in professional tennis management. The partnership involving the College of Graduate Studies and the United States Tennis Association (USTA) was recently formalized with the signing of a letter of intent.
The College of Education and Allied Studies will also play a role in the new programs, which are expected to grow to include a master's degree by fall 2019, as well as an undergraduate degree as soon as fall 2020.
Dr. Lisa Krissoff Boehm, dean of the College of Graduate Studies, had previously worked with the USTA.
"One of my ideas in coming here was that I might be able to bring this connection," she said. "And I was convinced that this would be a great way to go, since I knew what the USTA has to offer and what the tennis community is looking for.
"When I thought about coming to BSU, I realized how amazing the Physical Education Department is, and I knew this would be a great partnership," the dean said.
This would be the first professional tennis management program of its kind in New England. The USTA already has partnerships with more than a dozen schools around the United States.
There's a real need for more, said Scott R. Schultz, managing director of the tennis association.
"The mission of the USTA is to grow tennis, and to do this we're dependent on having quality tennis coaches to attract and retain students of all ages and skill levels," he said. "There's a huge shortage of those quality coaches and a huge demand that's not being met."
Mr. Schultz added that the placement rate for students graduating from tennis management programs is 100 percent. "They get good-paying jobs, and there are also great internships," he said.
Faculty members already onboard include Dr. Tom Wu, associate professor in the Department of Movement Arts, Health Promotion and Leisure Studies, who will help future coaches study the biomechanics of their students; and Chris Swart, '08, G'10, assistant professor in the same department, who can will focus on teaching tomorrow's tennis coaches about fitness levels, agility and strength. Dr. Jennifer Mead, another assistant professor in the department, has also been working to bring the partnership to fruition, and will take the lead in developing the curriculum.
The graduate certificate program in professional tennis management is ready to go before governance. So far, Mr. Schultz of the USTA likes the way things are shaping up at BSU.
"This is the best fit I've ever seen," he said. (Story by John Winters, G'11, University News)