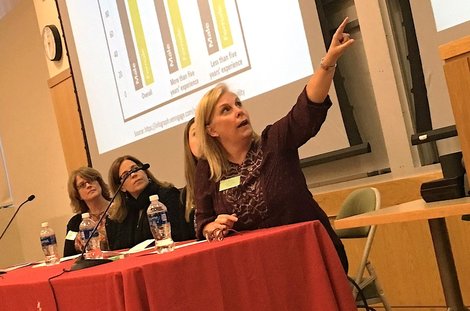 Story Series
News Feature
The Dana Mohler-Faria Science and Mathematics Center auditorium on a recent evening was packed full of young women seeking advice from alumni who were once in their shoes as undergraduates, and who have since carved out successful careers for themselves.
Alumni Relations and Career Services hosted the Women's Panel and Networking Event as part of National Women's History Month.
Panelists included K.K. Rumrill, '92, senior vice president of trial management services at DrugDev; Alison Cook Fitzpatrick, '93, head of talent and learning at Fidelity Investments; Cathleen Warren McElligott, '90, vice president of merchandise finance at BJ's Wholesale Club; and Lisa Tamulynas, '10, a project specialist at DrugDev.
Assistant Director of University Advancement and Development Tiffany Macauley emceed the event.
Panelists encouraged members of the mostly female audience to better advocate for themselves in the workplace, and also discussed the life-work balance, the importance of networking, and the benefits of mentors.
All of the panelists agreed that an area where women struggle is when asking for what they want and knowing their worth.
In her 20-plus years as a manager Ms. Rumrill said that during negotiations 90 percent of men counteroffered while only two women have ever sought more money upon being hired.
There is nothing wrong with asking for more, said Ms. Tamulynas.
 "Women are taught, you get what you get and that's good enough. But the worse that can happen is they say no," she said.
No matter what career path one chooses, Ms. Fitzpatrick said once you get your foot in the door what really matters is the effort you put in and the connections you make.
"Networking and the relationships I've made are important," she said. "Take advantage of the relationships you have; and, in a positive, genuine way, maintain those relationships."
Ms. McElligott added that all students entering the work force should create a LinkedIn account.
"Before you graduate make sure you get one," she said.
Above all else, the panelists said it's important to believe in yourself, realize you don't have to stick to a set plan, and to remember that self-care is part of creating a life-work balance.
"Appreciate the moment you're in and do not get distracted about where you'll be in the future," Ms. Fitzpatrick said. (Story and photos by Heather Harris Michonski, University News)