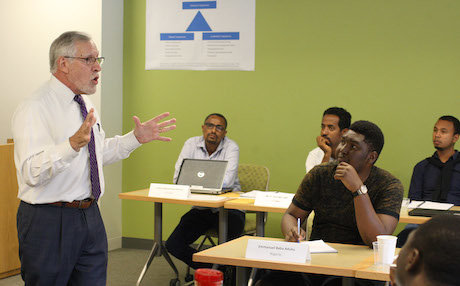 Story Series
News Feature
Commissioner of the Massachusetts Department of Higher Education Carlos Santiago addressed the Mandela Washington fellows who are spending six weeks on campus. He told them that, frankly, he wished he had better news about the state of education, both locally and nationwide.
"If you think we have all the answers…it's not exactly the case. It's a very, very difficult world," he said.
Indeed, the commissioner said the challenges facing Massachusetts higher education are manifold — specifically for state institutions, where nearly 90 percent of graduates not only stay local but are also desperately needed for the commonwealth's workforce.
Today's students "are the future of a state that relies on brains," he said.
The challenge is a demographic dip that has especially affected the Northeast. The result is a reduction in the number of young people reaching college age began. The trend began years ago, and is expected to continue for another decade. Yet the need for an educated citizenry, primarily in the form of college and university graduates, is growing. (For instance, computer programming graduates today each have their choice of an average of 17 jobs.)
The flip side of this, exacerbating the problem, is an aging workforce here in Massachusetts. Twenty-five percent of current workers in the state are expected to retire within the next decade.
"All this puts a pressure on our institutions to produce the mind power to keep this engine moving forward," Commissioner Santiago said. "We are in a crisis… At the end of the day it means that our public institutions are more important than ever."
He outlined three areas of focus for his office:
-Bringing new populations into higher education, specifically Latino and African-American students;
-Providing the services necessary to ensure these new students succeed;
-Closing achievement gaps between these formerly underserved populations and traditional students.
"What I'm concerned about are students who don't have resources and don't have opportunities," the commissioner said.
Complicating matters, the commissioner said, is the fact that despite the fact that Massachusetts is a relatively wealthy state, the amount of student aid provided ranks the commonwealth at the bottom, ahead of only Arkansas.
Asked what the best part of his job is, the commissioner spoke about seeing up close student success.
"The most satisfaction I have is in the success of the students we help," he said. "There's a great deal of pride in watching those students march across the platform."
Commissioner Santiago stayed after his lecture, fielding many questions from the Mandela fellows. (Story by John Winters, G '11, University News & Media)