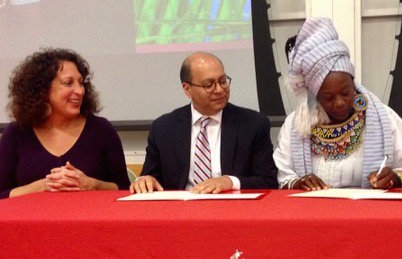 Story Series
News Feature
Bridgewater State University is celebrating the launching of a field school in the tropical forests of Trinidad.
Located in Fondes Amandes, a village in the foothills of Trinidad's Northern Range, BSU's first international field school will serve as a permanent site for university students and faculty to conduct research and assist with community projects, according to Dr. Diana Fox, professor of anthropology and chair of the department.
An event was recently held on campus during Carnival Week, which was sponsored by Latin American & Caribbean Studies, to mark the official launch of the field school. On hand was Akilah Jaramogi, managing director of the Fondes Amandes Community Reforestation project, who signed a memorandum of agreement concerning the field school, further cementing her organization's partnership with BSU.
The initiative was spearheaded by Dr. Fox, who has visited Trinidad for research several times since 2004. But the field school is meant to be interdisciplinary, with all BSU departments encouraged to make use of its facilities and to include it in course offerings as an elective overseas research opportunity. Students visiting the field school will also have access to Trinidad's University of the West Indes campus.
"It's really exciting," said Dr. Fox, expressing her appreciation for the support the project has received from university officials, including President Frederick W. Clark Jr., and Dr. Karim Ismaili, interim provost and vice president of Academic Affairs.
Dr. Fox said the villagers of Fondes Amandes have formed a non-governmental organization dedicated to helping restore the region's tropical forests to their natural state after many decades of deforestation.
She said the reforestation effort touches on many subjects that could serve as topics for student and faculty research, including anthropology, biology, public health, social work, sociology, and even psychology.  Students will gain experience "useful for their own futures and interests," Dr. Fox said, while the village benefits because much of the research will be service-oriented.
Dr. Fox piloted the school during trips to the village with students during the past two spring break periods. The school will officially debut in the summer of 2018 when work is completed on six cabins that will house BSU researchers.
The field school "fits well with the goal of many disciplines to work collaboratively with communities," Dr. Fox said. "I'm thrilled about it."