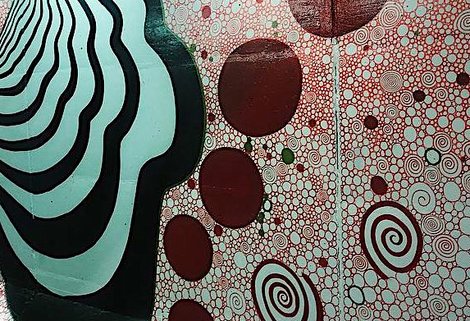 Story Series
News Feature
At any given time, Bridgewater State University is filled with students striding about, each focused on their own journey.
Artist Sagie Vangelina hopes when students are out and about on campus they react to the striking mural she painted in the tunnel that separates the east and west sides of campus.
It took the Boston-based-artist 60 hours to cover the tunnel's entire ceiling and walls. For the piece, she used black-and-white lines of varying sizes mixed with designs in pink, white and BSU red to create a psychedelic vibe. 
The lines are intentional, Vangelina said.
"I used repetitious lines and patterns to represent life's journeys and struggles and how you can overcome them and keep pushing forward," she said. 
 Vangelina's bear, "Off Track" is nested in the pond area on the great lawn of University Park and carries the same design and pattern she used in her mural. "Off Track" comes to view upon exiting the east-side of the tunnel. 
"The bear in the wild segues into this beautiful passage between the campus," Block said. 
Associate Director of Collections and Exhibitions Jay Block commissioned the up-and-coming artist to bring her distinctive style to campus after collaborating over the summer with her and other artists from the Boston-based Street Theory agency. Together they worked to install four life-sized fiber glass bear sculptures now situated on campus. 
Block was impressed with Vangelina's ability to invoke a joyful response through her art and knew she would be perfect to create the tunnel mural. 
"There is lightness, a playfulness to her work," he said. "I thought about the audience we were trying to reach, that being our students who are between the ages of 18 and 21. I felt Sagie would be able to capture that voice."
Vangelina was a recent student herself, having earned a degree in industrial design from Wentworth this past August.
"I know myself how tough school can be," she said. "I definitely wanted to bring some positive energy onto the campus."
Students passing through the tunnel this semester said they noticed the new mural and upon learning of Vangelina's intentions behind the art, agree her message is appropriate. 
"It's really nice, I like it," said communications major Mackayla Vale, 20.