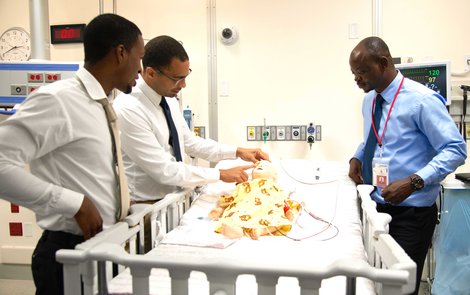 Story Series
News Feature
As he spoke to a group of young leaders from Africa, Dr. John Meara brought up sobering statistics about health care around the world.
For instance:
5 billion people lack access to safe, affordable surgical care and anesthesia 
143 million additional surgical procedures are needed each year
81 million people annually face catastrophic expenses as a result of surgery and anesthesia
 And, the consequences of inadequate care ripple across a region, harming individuals and whole countries, said Dr. Meara, Kletjian professor of global surgery at Harvard Medical School and plastic surgeon-in-chief at Boston Children's Hospital.
 "If an 18-year-old has a femur fracture that doesn't get fixed, then that person could be knocked out of the workforce for the next 60 years," he told Bridgewater State University's Mandela Washington fellows during a recent visit to Boston Children's Hospital. Things like that can have "a huge impact on a country's economy."
Dr. Meara also discussed his involvement with The Lancet Commission on Global Surgery, which compiled the above statistics in a report. Despite the gloomy data, he offered signs of hope. Countries are developing plans to improve access to surgery and Dr. Meara and others continue to advocate for support from worldwide organizations.
The fellows' visit also included a tour of the hospital's Simulator Program, which mimics operating, trauma and ICU rooms as well as a child's bedroom. The simulators feature the same equipment doctors and nurses use in real procedures. But, here they can practice on mannequins before working with living patients. 
You'd be forgiven, though, if you thought the mannequins were actually alive.
Some mimic the beating of a human heart or shake to simulate a seizure, said Kaitlyn Nogueira, simulation technical operations manager, who led a tour of the facility. Fellows eagerly donned stethoscopes to try to listen for heartbeats.
Simulation center staff can even create models of a patient's unique anatomy and print it out on a 3D printer, allowing doctors to practice with the model before the actual surgery. 
Fellows with a background in medicine were amazed at the technology. In Africa, hospitals are more primitive. Some struggle to find trained workers and reliable supplies of clean water, they said.
"There's a whole world of difference," said fellow Dr. Bernard Ziem of Ghana. "I'm so excited to have this experience of witnessing medical possibilities in different countries."
Dr. Elvio Pereira of Cabo Verde, said his country is an island chain, presenting a challenge because specialists cannot be on every island.
"What we're finding is every country has unique issues," said Dr. Meara. "There are no simple answers. You have a transportation issue that Tanzania doesn't have."
Fellows said they appreciate United States doctors' support of their African colleagues.
That support includes Children's Global Health Program, which has worked in dozens of countries. The program, for example, helped a Ghana hospital begin performing pediatric heart surgeries, said Dr. Michelle Niescierenko, the program's director.
"This experience gives me hope because I think with good partnerships, good connections and good networking, you can resolve many problems," said Dr. Yoan Mboussou, a fellow from Gabon. 
This summer marks the third consecutive year that Bridgewater has hosted a cohort from the Mandela Washington Fellowship for Young African Leaders. BSU is hosting 25 fellows for a six-week academic and leadership institute. (Photos by Drew Cambra, '19, University News)