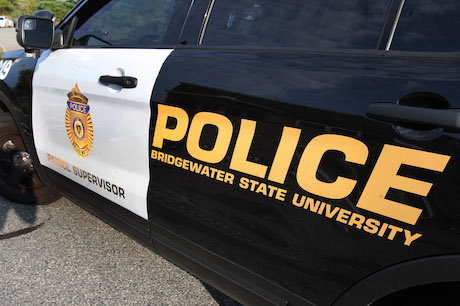 Story Series
News Feature
Andover Fire Chief Michael Mansfield had one word to describe recent gas explosions and dozens of fires in the Merrimack Valley: Armageddon. 
Bridgewater State University police officers who aided in the emergency response agreed.
"It appeared like it was a bombing site and warzone," said BSU Chief of Police David Tillinghast, recounting observations from colleagues who spent the night patrolling Lawrence streets. "In many areas, there was no electricity. … You saw cruisers buzzing by. Otherwise, it was darkness. It was very eerie."
On Thursday, firefighters dealt with 60 to 80 structure fires in Lawrence, North Andover and Andover – the three communities affected by gas explosions. A teenager died after a chimney fell on his vehicle and about 400 people stayed in shelters overnight, the Associated Press reported.
BSU Deputy Chief of Police Glen Anderson and Officer Alex Boswell, '16, went to Lawrence Thursday at the request of the Metropolitan Law Enforcement Council, one of several regional police agencies who sent personnel. They worked throughout the night patrolling the city on bicycles after many evacuated residents left their homes unsecured. 
"The idea was just to watch over the community," Chief Tillinghast said. "A key concern was the potential for residential burglary."
Sgt. David Dean, '08,and Assistant Chief of Police Matthew Rushton, '15, also spent time in the Merrimack Valley. 
BSU police traveled with a locksmith who picked house locks so gas company workers could enter to make sure homes were safe. They also helped keep first responders on the same page in a communications truck and fulfilled other duties.
Deputy Chief Anderson recalled giving BSU patches to two youngsters, brightening their day during a trying time.
"That family was literally walking with suitcases in tow and their belongings," he said. "You could see the sadness."  
The geographical enormity of the situation was also striking. Most emergencies might affect a block or two. This stretched across town lines, Deputy Chief Anderson said.
BSU officers felt an obligation to be among hundreds of first responders who assisted the Merrimack Valley in its time of need. And, members of the Bridgewater State community have ties to that region, so, in a way, they aided BSU's own.
"We really have that in mind," Deputy Chief Anderson said. "There's no doubt we have students who are affected as well as faculty and staff."
They also learned from and experienced being part of a major emergency that involved crews from multiple states. The department participates in mutual aid agreements and knows other agencies would come to campus should a major incident occur here, Chief Tillinghast said.
"It's a two-way street," he said. "And, we want to help in these communities."