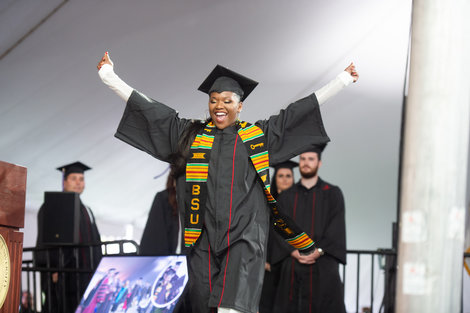 Story Series
News Feature
Bridgewater State University has been recognized for its efforts to serve black students. That's no surprise to those who know the university best.
"Bridgewater State University has a campus-wide commitment to supporting the success of all of our students and to closing achievement gaps," said Dr. Sabrina Gentlewarrior, vice president for student success and diversity. "This report is a testament to the entire campus's efforts over a great number of years."
The new report from the University of Southern California Race and Equity Center lists BSU among the top 36 four-year, public higher education institutions in the nation when ranked on several data points related to black undergraduates. The study reviewed enrollment equity, gender equity, degree completion equity and the ratio of black students to black faculty members.
BSU received high rankings in several areas: 
Having a higher percentage of black students than blacks' representation among 18- to 24-year-old citizens in Massachusetts 
Having a comparable breakdown of black male and female students as the national figures for all racial/ethnic groups 
Having a graduation rate for black students comparable to the institution's overall graduation rate.
Overall, Bridgewater scored a three on a four-point scale, placing it above the Massachusetts average of 2.81 and among the top schools in the United States. 
Gentlewarrior attributed BSU's achievements to many factors, including the Center for Multicultural Affairs' efforts to serve students of color and their white peers and the dedication of faculty and librarians to supporting students. The university's 18 student-led multicultural groups are also a point of pride for the campus.
Bridgewater has previously received accolades for its support of minority students, including a 2015 report from The Education Trust that lauded the university for closing the achievement gap between underrepresented minority and white students.
And, BSU has no plans to rest on its laurels.
"Bridgewater State University is extremely intentional in our classrooms, in our cocurricular experiences and in our work to create a welcoming campus and climate to ensure that our students from a diverse range of backgrounds can succeed and reach their goals," Gentlewarrior said. "While work remains, it's deeply gratifying to see the effort of our faculty, librarians, staff, administrators, alumni and especially our students nationally recognized again."