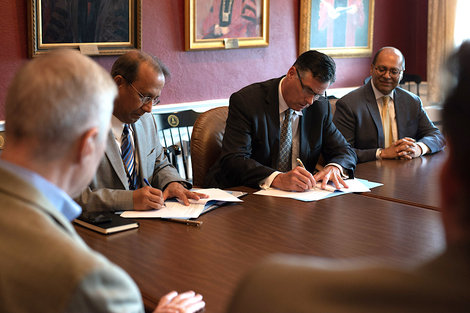 Story Series
News Feature
Social workers are dedicated to changing lives. Thanks to an innovative new partnership between Bridgewater State University and the University of Massachusetts School of Law, they will bring legal know-how to the table.
The two universities are launching a joint JD/master of social work program allowing students to earn both degrees in four years rather than five. That means they will graduate with less debt and have a unique skill set with which to help people in need.
"This type of unprecedented collaboration by our two public universities reinforces our mutual commitment to students who want to dedicate their lives to social work and the law for the advancement of social justice and equality," said BSU President Frederick W. Clark Jr.
Students can focus on topics that relate to their professional goals. They will collaborate to provide legal and social services across Southeastern Massachusetts.
"We can offer exciting opportunities for students in terms of practicum and field placements and we can serve our region as both social workers and lawyers," said Dr. Lisa Krissoff Boehm, dean of BSU's College of Graduate Studies.
The partnership brings together Massachusetts' only public law school and the only master of social work program south of Boston. The degrees complement one another as people served by social workers often need legal assistance. 
"Students trained through this concurrent degree program will be equipped to serve the public, and in so doing fulfill the primary mission of our two public institutions," said Dr. Eric Mitnick, dean of the UMass Law School.
Also on hand for the signing was Dr. Karim Ismaili, provost and vice president for academic affairs at BSU. (Photos by Drew Cambra, '19, University News)