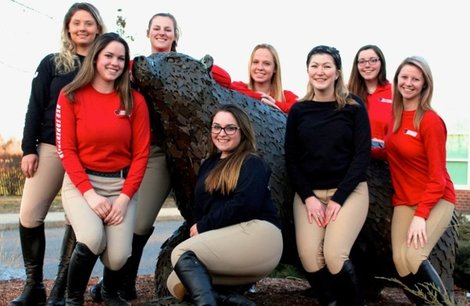 Story Series
News Feature
The women's equestrian program has been elevated from a club sport to full varsity status beginning with the 2018-2019 academic year.
Women's equestrian will become the University's 22nd varsity athletic program and 12th women's varsity team. Bridgewater will also become the first Massachusetts State Collegiate Athletic Conference member to offer women's equestrian as a varsity sport.
"Elevating the women's equestrian team to varsity status," said President Frederick Clark Jr., "expands exciting opportunities for our student-athletes to compete in NCAA Division III, and also reflects BSU's historic commitment to equity for our women athletes."
The addition of women's equestrian marks BSU's first expansion of varsity athletics programs since men's and women's indoor track and field was added in 1995.
"Our equestrian club is very strong both in membership and talent," said BSU Director of Athletics Marybeth Lamb. "After our recent athletic program review completed in the spring of 2017, it became apparent that equestrian was the obvious choice for elevation to varsity status."
"Equestrian represents a sport that is rising in popularity in college athletics throughout both New England and the nation." Dr. Lamb noted. "As our athletics program continues to grow, BSU is committed to finding new and innovative opportunities for our student-athletes to challenge themselves personally and competitively."
She expressed her gratitude to Lou Ricciardi, '81, both an alumnus and former chair of the BSU Board of Trustees, for leading the efforts to raise significant private funds to provide this opportunity to the women of BSU equestrian.
Reunion Farm in Plympton is the home barn for the BSU women's equestrian team. Geraldine Burnet will continue to serve as the team's head coach. Burnet has guided the squad since January of 2014.
The BSU women's equestrian team, which was founded in 2007 by current advisor Diane Nicol, will continue to compete under the umbrella of the Intercollegiate Horse Shows Association (IHSA). The Bears ride against both varsity and club programs from fellow Massachusetts colleges and universities within Region Four of IHSA Zone One. Throughout the fall and spring, the team competes in roughly five to seven shows during the regular season. Individual riders have the opportunity to qualify for the regional championships as well as the Zone One championships and ultimately the IHSA National Championship which is held in early May.
Prospective student-athletes interested in competing as a member of Bridgewater State's varsity women's equestrian team can contact Coach Burnett for further information at reunionfrm@comcast.net. (Story by Michael Holbrook for University News)