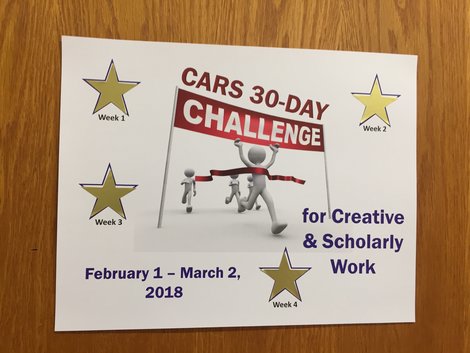 Story Series
News Feature
Bridgewater State faculty and librarians are often so busy teaching, preparing for classes, grading assignments and addressing other demands that their own scholarly work takes a backseat.
"It's really hard with the amount of courses we teach each semester to find the motivation and the time to do our research and write articles and produce the scholarly work we need to produce," said Dr. Nicole Glen, an associate professor of Elementary and Early Childhood Education.
But, Dr. Glen, who is also a research fellow at BSU's Center for the Advancement of Research and Scholarship (CARS), hopes a recent initiative showed faculty and librarians they can set aside time for these projects. Fifty-seven people participated in the 30-Day Challenge for Creative & Scholarly Work from Feb. 1 to March 2. The program, which was also held last year, challenged faculty and librarians to set aside 30 minutes each day to tackle projects such as writing articles, making sculptures and composing music.
Research shows frequently engaging in creative and scholarly work for short periods of time can help people accomplish more, Dr. Glen said.
"Thirty minutes is short enough that it seems feasible to most people, but long enough that they can get a good amount done," she said.
Participants connected and posted updates on their accomplishments on a social networking platform. And, Dr. Glen, who took the challenge herself, sent out inspirational emails to participants.
"You feel like you're a part of a bigger group," said Dr. Simone Poliandri, an assistant professor of anthropology. "We all feed off each other's success and energy, and that helps."
Dr. Poliandri used this year's challenge to prepare a presentation about contemporary Native American nation building.
"It reminds you that you have the time," he said of the challenge. "Nobody is so busy they can't find 30 minutes."
Dr. Jeanne Carey Ingle, an assistant professor of Elementary and Early Childhood Education, used the program to further her writing about serving academically talented children in economically disadvantaged schools. She also began research on closing the achievement gap for immigrants after reading an article about Canada's success on this front.
"What's magic about this 30-day challenge is that it helps you find and dedicate time to this part of your life that is important," she said. "We all want to write about what interests us and what we think is important in our discipline."
Dr. Glen drew inspiration for the challenge from her alma mater, Syracuse University, which ran a similar program focused on writing. At Bridgewater State, Dr. Glen sought to involve people from a variety of departments. 
"It was a way for me to get a lot of people involved and motivated toward their scholarship and research," she said. (Story and photos by Brian Benson, University News)