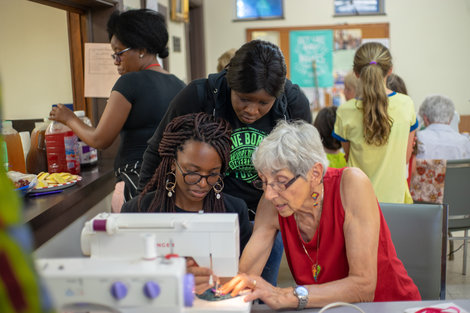 Story Series
News Feature
For most women, it's hard to imagine a complete wardrobe consisting of just two outfits. However, for many girls living in rural areas, that's reality. 
Bridgewater State University is doing its part to change this by providing a Community Initiative Grant to support the local chapter of Dress a Girl Around the World.
The chapter meets every week to create colorful dresses that are then distributed across the globe to help bring dignity to the lives of young women and girls living in poverty. Each dress contains a new pair of underpants tucked into the pocket.
When the visiting Mandela Washington Fellows were on campus this summer, they made a trip to meet with the volunteers.
During their visit, the fellows helped iron, cut and sew fabric. Each of them committed to bringing at least five dresses back to Africa for distribution.
"This gives them a chance to feel beautiful and helps with their self-esteem," said Grace Mganga, a fellow from Malawi. "I think a lot of times when discussing problems girls face in developing countries, people think of solutions based on the bigger picture…this initiative is amazing because local resources are used to bring awareness and meet the needs of these girls."
According to Evelyn Delutis, one of the Bridgewater chapter organizers, in two years members have produced more than 600 dresses, each with the "Dress A Girl" label clearly visible.
"What we've learned is that when predators see a little girl with a dress carrying this label they know somebody is taking care of them and they don't bother them. This little label protects these girls," Delutis said.
As Mandela fellow Ibrahima Diba smoothed out fabric on an ironing board, he said the ability to create and bring these dresses back to his native Senegal is an honor.
"To be able to make dresses and bring them to girls who might not even have a dress to wear to school, it gives me a sense of satisfaction. As an African I'm humbled and grateful for this organization," he said.
Gail McCarthy, '77, serves as an ambassador for the Dress a Girl organization. Having the fellows participate is valuable, she said. Knowing the dresses will be delivered directly to a deserving girl is reassuring.
"A lot of times they get stolen and then sold, plus they can be expensive to ship," McCarthy said.
For anyone interested in learning more about the program or to volunteer visit https://bit.ly/2YwjXRv. No sewing experience is required.
"These children literally have nothing. This is a way to help and give them something," Delutis said.
Do you have a BSU story you'd like to share? Email stories@bridgew.edu