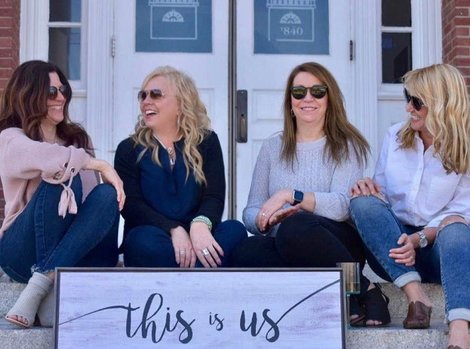 Bridgewater gave me lifelong friendships...These girls aren't just my friends, they are my sisters. No judgement, good times and bad, we have each other always.
Story Series
News Feature
It was 1983. Aqua Net hairspray and leg warmers were all the rage with Tootsie and Return of the Jedi leading at the box office. It was also the year "Peachy," "Guilmetty," "Cowie," and "Cutting" first met at what was then Bridgewater State College.
Their real names are, Lisa (Picchi) Habig, Sharon (Guilmet) Fries, Rosemary Miller, Kathleen Cutting, and like a good wine, for the past 36 years their friendship has matured, growing richer and deeper.
A lot has changed since the quartet graduated from Bridgewater State in 1987. The group recently gathered on campus for some photos and to reflect on their alma mater and the place that brought them together.
As freshman, Fries and Miller were roommates, both assigned to room 430 in Durgin Hall. The two hit off immediately, even choosing to live together for all four years of college.
"We became fast friends. I fondly remember sharing long talks, clothes, hairspray and meals," Miller said.
Miller had previously met Cutting and Habig during orientation; soon introductions were made that eventually led to a stowaway roommate.
"Lisa was a commuter but stayed with us all the time, everyone thought she lived there," joked Fries.
"My bed was a green cot with a swimming pool float as my mattress," Habig said. "Every Wednesday I'd show up with my suitcase and leave on Sunday. We had house mothers at the time and they thought I lived there."
Soon the four friends were inseparable. Aside from their studies, they attended football and rugby games, fraternity parties and spent Thursday nights at Tony's Bar.
"As I reflect on those years at Bridgewater, what I remember the most is the support and love we had for each other. Especially that first year," Cutting said. "We learned about balancing studies with fun, but more importantly, about love and laughter, heartache and tears. We stood by each other through everything."
Leaning on each other, each woman earned her degree: Miller in communication disorders, Fries in business management, Cutting in education and Habig in management science.
All have had successful careers, with Miller working as a speech language pathologist, Fries operates her own interior design business, Cutting is a teacher, and Habig is a senior executive assistant to the CEO of a Fortune 400 technology company.
Over the years they have gathered for parties, birthdays, weddings, baby showers, graduations vacations and even funerals.
Fries and Miller liked living together so much, they both ended up moving their families to the town of Bridgewater.
"We vacation together, our kids are very close to each other and we spend every Christmas together," Fries said. "The fun never ends, right?"
The four women agree that their bond remains. When one of them is in need or celebrating a success, they are there for each other.
"Bridgewater gave me lifelong friendships," Habig said. "These girls aren't just my friends, they are my sisters. No judgement, good times and bad, we have each other always."
Do you have a BSU story you'd like to share? Email stories@bridgew.edu