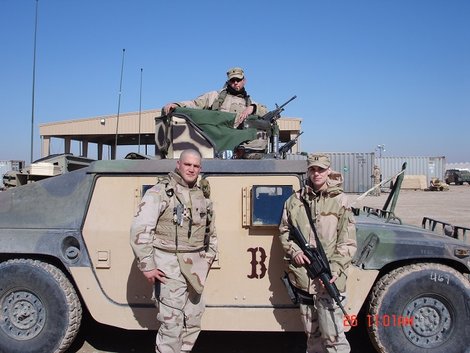 If you want to be happy, you have to accept things for what they are and move on from there.
Story Series
News Feature
When Renee Mendoza, G, '21, took a trip to the emergency room with flu-like symptoms she never expected to be diagnosed with something as serious as a brain tumor.
But that's exactly what happened last May, when the seventh-grade math teacher and single mother of two learned she would have to undergo surgery to remove a pituitary adenoma.
"It was huge," Renee said. "Had they not found it when they did I would have lost my eyesight. I was very lucky."
In the end, it took four surgeries to completely remove the tumor which turned out to be benign.
It isn't the first time the Bridgewater State University graduate student has faced adversity.
Renee boasts a 26-year career with the National Guard. On active duty she served as a battery commander where she trained and oversaw 175 soldiers.
Out on a convoy during a 2004 tour in Iraq, her vehicle was hit by a roadside bomb.
 "Our gunner passed out, but he was saved…the shrapnel went into the ammo can. Our vehicle was totaled…I am actually fortunate to still be here," Renee said.
Both experiences have helped shape her into the person she is today, and that is a someone filled with joy.
"My motto is, accept things and move on," she said.
Moving on for Renee means, continuing her education through the BSU Education Specialist Program. Her goal is to become a middle school principal.
The program is geared toward full-time educators; some of the courses are offered online.
The professors in the program have been nothing but supportive of her situation, she added.
"I really like it. The program makes it easy because you don't have to be there every week, but I've also enjoyed being on camps as well," Renee said. "I really enjoy the camaraderie and atmosphere."
Dr. Phyllis Gimbel is one of Renee's professors. She says she's inspired by her student's story. Aside from her ability to persevere, Dr. Gimbel is equally impressed with Renee's leadership abilities.
"It is rare for a woman to be a leader in the armed forces and to serve on the front lines as Renee has done, and now she is a role model for our graduate students here at BSU," she said.
Renee is amused that she is now described as a role model because in high school she was voted "most quiet." No one would say that now.
As she recovers from her brain surgeries, she continues to live by her motto and encourages others to do the same.
"If you want to be happy, you have to accept things for what they are and move on from there," she said. "Also, don't compare yourself to other people…If you're constantly trying to change things that can't be changed, you're going to be miserable."
Do you have a BSU story you'd like to share? Email stories@bridgew.edu