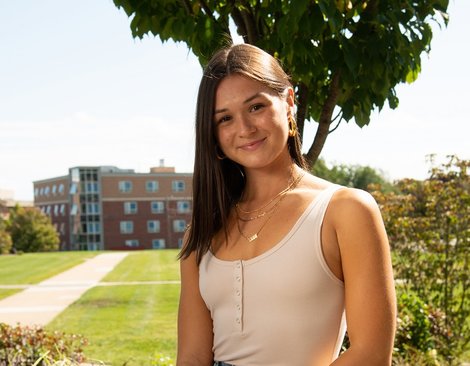 Story Series
News Feature
Upon meeting Maggie MacDonald it's easy to understand why 250,000 people follow her on YouTube and another 163,000 keep up with her on Instagram.
The 22-year-old Bridgewater State University senior glows when she greets you, wearing a smile that draws you into the positive vibe she's putting out. Her vibrant personality has undoubtedly helped propel her into a successful career as a social media influencer.
While BSU students might interact with her in class, they are better acquainted with her online presence. Many watch Maggie's videos to get her take on fashion, health and beauty, exercise, and how to tackle daily life in general.
"Social media can be used in different ways, some are negative and bad, but when you take the time to really think about whose content you are consuming, that's important," she said. "I like making people feel inspired and positive and to try to help them make the most out of their lives."
The journey to online stardom started two years ago with a blog. From there it evolved into Maggie filming and editing her own online videos. As her followers on social media grew, sponsors like Adidas and Lululemon took notice.
She obtained an agent and continues to pursue a degree in marketing at BSU, simultaneously juggling her studies and life as an influencer.
If you ask her why she believes things have accelerated so quickly for her, she will tell you her brand is about being yourself, a motto she believes applies to all areas in life.
"Even if what you have to offer is different than what other people are doing, you always have something to offer," she said. "You have your own unique qualities that you should share with the world."
Having a thick skin also helps.
In the beginning, Maggie was made fun of at parties, people played her YouTube videos for all to view and laughed at her.
"If it weren't for me not caring, I would have stopped," she said.
No one is laughing now.
The money she makes as an influencer pays for a high-rise Boston apartment with a view, as well as her travels around the world, during which Maggie shares her experiences along the way.
As she continues to build her brand she isn't turning her back on education and is looking forward to earning her BSU degree.
Some might suggest she doesn't need an education to have a successful career as an influencer, but Maggie disagrees.
"This experience at BSU has been life changing for me. I want to finish because it's something that I started, and I don't walk away from anything," she said. "Education is important, it is something that should be valued."
Throughout it all, BSU has been part of her process.
"Being here, it's opened my eyes to all of the different possibilities," she said.
Do you have a BSU story you'd like to share? Email stories@bridgew.edu