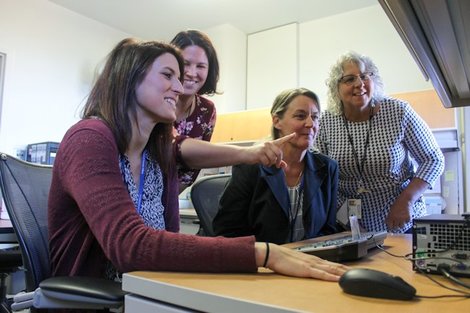 I want to continue working with veterans and the aging population. They put their lives on the line for us, and I want to advocate for them and help them.
Story Series
News Feature
Jolee Griffin, '12, has a very personal reason for studying social work at Bridgewater State University and working for the U.S. Department of Veterans Affairs. Her father.
"The VA helped us connect as a family," said Griffin, whose dad served in the Marine Corps during the Vietnam War. "I was brought up in the VA. I remember how much the VA helped me growing up."
Now Griffin is one of a number of alumni using their BSU education to assist veterans at the VA's Brockton campus. Some even mentor Bridgewater social work students interning there.
Griffin, a case worker who serves homeless veterans, works with intern Meagan Mulready, G'20. They help veterans find and stay in housing. Meanwhile, in the Geriatric Mental Health Outpatient Clinic, Gayle Clark, G'11, and intern Patricia Murphy, G'20, assist older veterans facing PTSD, depression and anxiety.
"I couldn't think of any other field where I would have so much satisfaction," said Clark, who directs the clinic.
Clark has long sought to help others. While growing up, she bought shampoo and ravioli for a low-income family for whom she babysat. Social work comes to her naturally. And since her father served during the Korean War, she feels the VA is the perfect employer.
Drawn to Bridgewater by the social work program's strong reputation, she completed her master's degree after having already worked extensively in the field. She appreciated how students and professors shared first-hand knowledge in class discussions.
The faculty "all had such rich experience that they brought into the classroom from their own clinical experience that was really helpful," Clark said.
Patricia, whose background is in education, is grateful for the strong foundation built through in-person courses rather than online. The internship dovetails perfectly with her studies, as Clark reinforces the theories Patricia learned in class.
"I want to continue working with veterans and the aging population," Patricia said. "They put their lives on the line for us, and I want to advocate for them and help them."
Meagan also came to BSU with no background in the field. She studied nutrition and, after working with low-income people, realized she could do more as a social worker.
"The needs of my clients were so much more," she said. "You can't really tell someone to eat more fruits and vegetables when they don't have food on their shelves."
Meagan is impressed with her courses at Bridgewater, especially a diversity class that changed how she views her community
"I find homeless veterans are some of most underprivileged right now. They're the ones that need a lot of help," Griffin said. "They've been traumatized by being homeless."
Griffin is pleased with the comprehensive clinical knowledge she developed at Bridgewater thanks to professors such as Dr. Beverly Lovett.
Griffin and Clark are thrilled to work with Bridgewater students, whom they relate to because of their shared alma mater.
"They really shine," Clark said. "They really stand out and have a great understanding, enthusiasm and professionalism."
Do you have a BSU story you'd like to share? Email stories@bridgew.edu