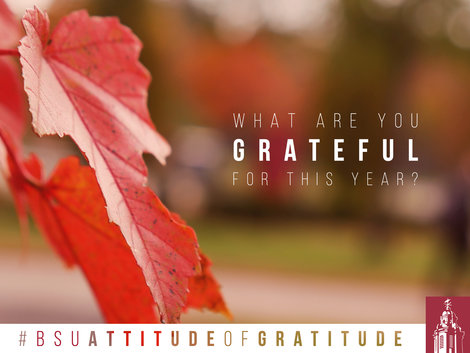 Story Series
News Feature
Thanksgiving is more than just football and turkey, it's a time to celebrate the blessings of the past year. For many Bears, it's also a holiday associated with peace, family and friendship.
This year, Thanksgiving is Nov. 28, and as the holiday approaches members of the BSU community shared what they are most thankful for this year.
"I am grateful that I get to come to school, have a roof over my head, my dog and my family who I get to go home to see over Thanksgiving break."
"I am grateful for BSU students, for my passion to engage with these students and for my grandchildren."
"I am thankful for the BSU chorale and the fact I get to be a music major and share my passions with other people who are also into music."
"I am thankful for my family, for the job I have, and the people I work with."
"I am thankful for my family – for so many things, every day I am thankful."
Let us know what you are grateful for this Thanksgiving. Share your #BSUAttitudeOfGratitude with us on Twitter @BridgeStateU and Instagram @bridgestateu.