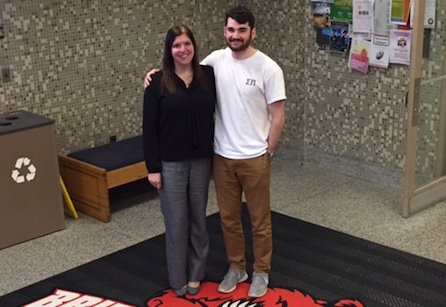 Story Series
News Feature
Bridgewater State University is home to a vibrant Greek life scene — and after two members of the campus community were honored for their work with fraternities and sororities, that reputation seems to be spreading regionally.
Maribeth Flakes, acting director of the Office of Student Involvement and Leadership, and student Jacob Ames, '17, were honored with individual awards at the Northeast Greek Leadership Association (NGLA) conference in Hartford, Conn.
Ms. Flakes earned the Phillipi Award, which is for a committed fraternity or sorority campus professional who has made significant contributions to the Greek life community within the Northeast region via advising on a governing council. According to OSIL Director Cindy Kane, Ms. Flakes was recognized after numerous letters of nomination were submitted by BSU students.
"Being recognized by your peers is a wonderful feeling but what is most special about this award is that the nominations were from students," Ms. Flakes said. "Fraternity and sorority students are active and engaged members of the university community, they make us look good as an institution. The knowledge that students took time to write nominations reminds me of how lucky I am to do what I do and how lucky we are to have such amazing students here at Bridgewater State University."
Meanwhile, Jacob was presented with a "Greek Letter of Distinction" for his contribution to his Sigma Pi fraternity brothers. The Greek Letter of Distinction is given to students who exemplify the ideals of their fraternity in their daily lives and show leadership — which fits Jacob perfectly, given his involvement in various on-campus activities. Like Ms. Flakes, Jacob was nominated by his peers.
Dr. Kane said that this is the first time in the past 18 years that the university has taken home the Phillipi Award. 
"It's hard to explain to people outside of higher education what I do for a living," Ms. Flakes said. "For nearly nine years, I have found working with our BSU fraternity and sorority community to be extremely gratifying. I have the privilege of developing long term relationships with members as individuals but also as part of our larger community."
The NGLA builds community among students from a variety of fraternal experiences, challenges members to align their actions with fraternal values, and empowers advocates to transform and improve their communities. (Story by Charlie Peters, University News & Media)