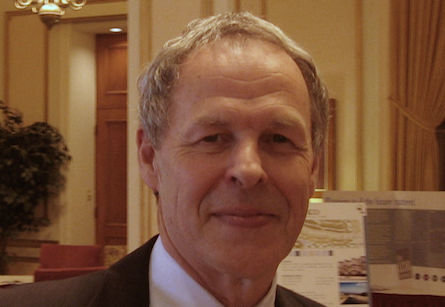 Story Series
News Feature
As an award-winning Canadian broadcast journalist, Linden MacIntyre traveled the world for decades, covering international conflicts and preparing hard-hitting investigative reports.
Now the retired television and radio reporter, producer, and on-air host, who is also an acclaimed novelist and author of nonfiction books, recently began a new assignment as the Killam Visiting Professor in Canadian Studies.
In this role, Mr. MacIntyre is teaching a communications seminar, and will also be giving talks, and working to complete his two latest books.  
Given the contentious political environment in the United States, "I thought it would be a great time to be here and to not just listen but also to talk to people and exchange ideas," said Mr. MacIntyre, who is residing on campus at the International Scholar House.
Sponsored by the university's Killam Canadian Fund, the one-semester professorship is part of BSU's 44-year-old Canadian Studies Program.
"It's a perfect place for what I want, which is quiet contemplation of a lot of contemporary issues and historical issues," Mr. MacIntyre said of BSU, adding that he is also enjoying his interactions with students and faculty.
Mr. MacIntyre is the sixth person to hold the professorship, an endowed chair that allows the Canadian Studies Program to bring notable Canadian scholars and public figures to campus for one semester each year, according to Dr. Andrew Holman, a professor of history and the program's director.
"We are very privileged this term to be able to have as our Killam Professor a person with Linden's broad experience and deep insight into journalism and the pursuit of social justice issues," Dr. Holman said. "He is a natural teacher, and his wit and wisdom make having him with us a special experience."
While he has never worked in academia, "I've been a student all my life – that's what journalism does…I've been studying things either sitting at a desk or traveling around the globe. So I bring that to the room," Mr. MacIntyre said, along with a "Canadian point of view."
He spent 38 years with the Canadian Broadcasting Corporation as a producer and reporter for a CBC's television newsmagazine, host of its Sunday morning radio show, and until his retirement in 2014 co-host of the investigative TV newsmagazine, the fifth estate. He was previously a newspaper reporter for 12 years.
His most memorable stories were those that "change you as a person," he reflected, citing in particular reporting he did in war zones, stories on prison inmates, and a documentary on verbal abuse. 
Mr. MacIntyre's four novels to date – a fifth is due to be published this summer – include the award-winning The Bishop's Man, which is part of a trilogy. His two nonfiction books include a memoir.
Mr. MacIntyre said he worries about the health of journalism "in a period where it is weakened by technological changes and changes in business models." But he remains hopeful, observing, "There will always be the need for information that is delivered by people who do not have a dog in the fight except that they are citizens."