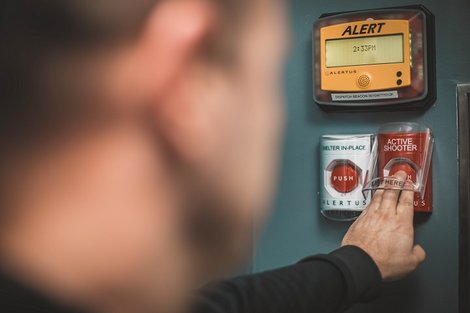 Bridgewater State University is the first higher education institution in the state to unify all its stand-alone emergency notification systems to more quickly notify the campus community of an emerging crisis and provide real-time information throughout an event.
The new Rave Mobile/Alertus system has consolidated the university's outdoor siren, desktop takeover notices, text message alerts, email notifications, voicemails, social media messages across a number of platforms and the BSU Guardian app into a comprehensive notification system. The project also stands to integrate the BSU website, intranet, mobile application, LED signage and RESNET monitors.
With the merger, the Bridgewater State University Police Department now has a one-button tool that quickly sets both the communications stream and full police response into motion.
Members of the campus community and subscribers will receive notification and updates during events that affect health, safety or wellbeing such as nearby violence, fire, building evacuations or a serious weather emergency, said Assistant Chief of Police Matthew Rushton, who proposed the consolidation.
Real-time, follow-up communications through Rave Mobile/Alertus offers timely updates during an event and will provide notification when the event has safely concluded.
The integrated system was supported by Steve Zuromski, BSU's interim Chief Information Officer and Vice President for Information Technology. The collaborative effort between the IT and the BSUPD has been developed for rollout this spring semester.
Students are automatically populated in the system once they provide their telephone numbers during enrollment and class registration. Any member of the campus community with a Banner ID who has provided a telephone number in Banner is automatically included.
External subscribers, such as parents, guardians, vendors, visitors to campus, town residents and officials, can opt in by text 67283 "bsualert" or can also stop receiving alerts by text 67283 "STOP bsualert".
Nationally, BSU is the second higher education institution to integrate all modalities of its emergency notification systems only behind The Ohio State University.
Do you have a BSU story you'd like to share? Email news@bridgew.edu