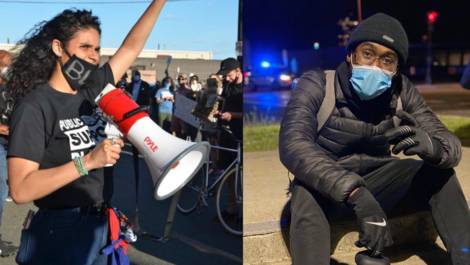 The color of a person's skin shouldn't define them in a negative light. At the end of the day we are all human.
In her quest to affect real social justice reform, Shayla Mombeleur, '12, applies some of what she learned as a student at Bridgewater State University.
"Studying at Bridgewater, specifically as a political science major, had a huge impact," Mombeleur said. "There were certain professors and classes that instilled in me a love and interest in public administration."
Today Mombeleur, who was recently admitted to Harvard Business School's Leading the Difference program, works as a public defender in Boston and often witnesses disparities inside the courtroom that disproportionally harm the poor and people of color. Because of this, she is building a career as an advocate, giving a voice to those who need it most.
In an effort to bring about change within the legal system, Mombeleur and other public defenders across the state, recently organized the Black Lives Matter for Public Defenders March. The event took place on June 8 in Nubian Square, Roxbury, with hundreds turning out.
"This provided me and other public defenders the opportunity to get together and be a voice for the black, brown and poor – those most likely to get taken advantage of," she said. "I think many of us are at the point where it feels like we've all had enough."
Protests and rallies erupted across the world after the killing of George Floyd, a black man who died after Minneapolis Police Officer Derek Chauvin kneeled on his neck for nearly nine minutes. Shayla Mombeleur is far from the only Bridgewater graduate taking a stand these days.
Arluah Wonton, '18, participated in two Boston Black Lives Matter protests.
"I do this to be a voice for the voiceless," he said. "I wanted to contribute to the public efforts of letting the world know that all lives will not matter until black lives also matter."
Wonton said, during his time at BSU, he appreciated the care and attention given to minority communities but, like President Frederick W. Clark Jr. has publicly stated, there is still work to be done, starting with effective communication.
"Ask genuine questions to those in the black community. I strongly suggest having these conversations privately because they can be sensitive and personal topics," Wonton said. "Be ready to listen. Be ready to take action on the information you receive."
He suggests opening dialogue with questions that include, "What have your experiences with racial injustice been like?" or "How can I genuinely support you?"
Reaching out to diverse populations of Americans, Mombeleur said, may seem like a simple concept but it is key in impacting change.
"We need to work together to come up with ideas and demand change from legislators, from our neighbors. We need to teach our children the right things and figure out how to work together," she said.
This is after all a human rights issue, Mombeleur said.
"The color of a person's skin shouldn't define them in a negative light," she said. "At the end of the day we are all human."
Do you have a BSU story you'd like to share? Email stories@bridgew.edu