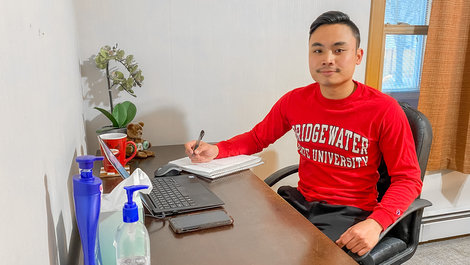 "We're going to keep moving forward and anticipate the moment when we are going to go out and do our thing again."
For Francis "Frankie" Raboy, '20, and his Bridgewater State University classmates who traveled to Canada for spring break, it was supposed to be a special week, one where indelible memories were made.
The students came away with memories all right, however not the ones they were expecting.
As the members of the group were enjoying time off from school, news trickled in that there was more to the COVID-19 virus than initially thought. They learned that Italy was essentially shut down and international flights were being canceled.
"By the time we got to Canada, news was blowing up," Frankie said. "We started to think, what if they close the borders?"
They decided to cut the trip short and returned home. Shortly thereafter they learned that BSU was canceling classes the week of March 16-20 in response to growing concerns surrounding the COVID-19 outbreak.
"I think the approach the university took, to give themselves a week to think about their options, before jumping the gun was smart," Frankie said.
He and his friends remained hopeful, that they would get to finish out their senior year on campus and enjoy the customs involved, such as Springfest, fraternity/sorority formals, and walking across the stage during May's commencement ceremony.
Their hopes were dashed when BSU officials made the difficult decision to move all courses online beginning the week of March 23.
"I was so excited to attend these events because they were going to be the last ones," Frankie said. "As seniors, we won't get to live out the traditions that decades of seniors have had before us…but this isn't about me, it's about the greater good, about being home and safe, about the well-being of others."
BSU students aren't alone, across the country schools at all levels are closed with many moving to remote learning.
"I've taken online classes before, but never a full course load online," Frankie said. "It's not really my preferred medium to learn in, but I'll adapt in order to continue my education…I don't want to give up just because my circumstances are different. It's really important be resilient and persevere."
He's also staying in touch with his peers, especially his Sigma Pi fraternity brothers. There have been many FaceTime sessions. 
"We are each other's support network and have been talking every day," Frankie said.
As they wait for things to return to normal he and his brothers discuss ways to initiate new members and to keep the fraternity financially afloat.
"We are trying to have some normalcy…life doesn't end, it's just really slow right now. We're going to keep moving forward and anticipate the moment when we are going to go out and do our thing again," Frankie said.
And while he's understandably disappointed to be missing out on events and senior year traditions, he is grateful that he's been able to pack in so much during his time at BSU.
"I never took any of my time at school for granted," Frankie said. "I've always made the most of what I had. When I look back at my time at BSU it will be with fondness, not with loss."
Do you have a BSU story you'd like to share? Email stories@bridgew.edu