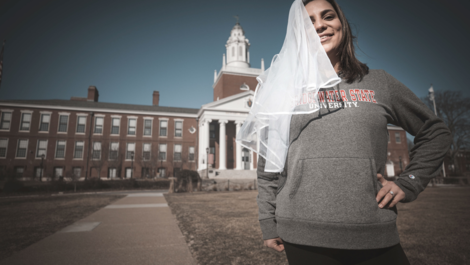 "The scale is the devil, how I feel and how my clothes fit that's what matters…I try not to get so fixated on the number. Weight shouldn't be seen as ugly.
Standing in the same spot where thousands of brides have stood before, Bridgewater State University's Samantha Moniz, '21, said "yes to the dress" in front of family, friends and a television crew.
Samantha's search for the perfect wedding dress was documented in March, before the COVID-19 pandemic, as part of the TLC Network's Say Yes to the Dress, the show where brides try on dresses at New York City's famed Kleinfeld Bridal Salon.
"Stepping foot into Kleinfeld was a dream come true," Samantha said. "When putting on my dress for the first time, I was speechless. I felt like a princess standing in front of her castle."
The BSU junior and her fiancé, Paul Pacheco of New Bedford, plan to marry after graduating and have set a date of Oct. 15, 2021.
TLC producers reached out to Samantha after she applied to appear on the show and shared her inspiring story of losing more than 100 pounds this past year. She did so because her doctor said her health was at risk.
She used Weight Watchers to learn how to make better food choices and started walking, which turned into running. Now she runs six days a week and is training for her first marathon.
"I did this to get healthy, it was not about the wedding," she said.
When she isn't planning her wedding or studying, the psychology major works full-time as an early childhood educator at Children's Academy in Marion. Eventually she hopes to work with the Department of Children and Families to help at-risk children find better homes and living situations.
Trying to balance it all has been tricky, but she has received a lot of support from the BSU community.
"My professors have been marvelous…all of my teachers have been amazing because they know the hours I work," she said.
Samantha hopes her Bridgewater peers will tune in when she is featured on Say Yes to the Dress on the TLC Network. 
"Getting my story out there, touching people's lives, that's why I wanted to be on the show," she said.
For anyone with a goal the hardest part is taking that first step, she said, but she is glad she did.
"I felt like I was walking into a messy room and didn't know where to start," she said.
And while she is proud of her weight loss, ultimately, it's about feeling good in your own skin.
"The scale is the devil, how I feel and how my clothes fit that's what matters…I try not to get so fixated on the number," Samantha said. "Weight shouldn't be seen as ugly."
Do you have a BSU story you'd like to share? Email stories@bridgew.edu