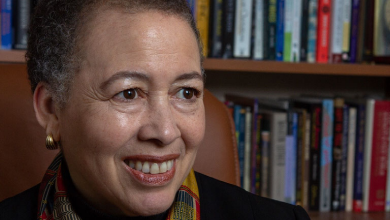 ...you can't solve a problem without talking about it.
When Dr. Beverly Daniel Tatum, best-selling author and leading authority on education and race, received an invitation to speak to the Bridgewater State University community she happily accepted.
Her return to campus on November 19, though virtual, is a homecoming.
Tatum was 4 years old when her family moved to the town of Bridgewater. Her father, Dr. Robert A. Daniel, joined the faculty in 1958, becoming Bridgewater State's first African-American professor.
As a child she attended the Burnell Campus School, which is also where her father's office was, and even learned to swim in the campus pool.
"One of my happiest memories as an adult is the day that my father and I both received honorary degrees from Bridgewater State, awarded in 2003 by (then) President Dana Mohler-Faria," Tatum said.
When her father died in 2016, at the age of 90, she attended a memorial service hosted by President Frederick W. Clark Jr.
"At that event, many of my dad's former students came to pay their respects and it was very meaningful to all of us to hear how their lives had been touched by his teaching and mentorship," Tatum said.
Tatum, who retired as president of Spelman College in 2015, is coming back to Bridgewater after accepting an invitation from Dr. Mary Grant, senior administration fellow for civics and social justice, to discuss her book, Why Are All the Black Kids Sitting Together in the Cafeteria?
"I was glad to learn about the Martin Richard Institute for Social Justice and happy to support its work by accepting the invitation to speak," Tatum said.
Tatum's book serves as a tool to better understand how racism shapes our view of others, and the ways individuals can build bridges to effectively communicate with each other despite our differences.
First, Tatum said, it's important to be clear about what racism is.
"Many people use terms 'prejudice' and 'racism' interchangeably, but this is inaccurate," she said.
She explains that racial prejudice refers to an individual's beliefs and attitudes, but racism is more than that.
"In short, racism is a system of advantage based on race," she said.
Often people are afraid to talk about these issues, Tatum added.
"Unfortunately, in our society there is a lot of silence about race and racism," she said. "But you can't solve a problem without talking about it."
It's important for everyone to recognize they can bring about social change, Tatum said, including the Bridgewater State community.
"Start by asking yourself, 'Whose lives do I affect and how?' 'What power and authority do I wield in the world?' 'What meetings do I attend?' 'Who do I talk to in the course of a day?'" she said. "Identify your strengths and use them."
Registration for the Nov. 19 event is now closed, but will be taped the night of and available online at a later date. For more information, contact the Martin Richard Institute for Social Justice at MRISJ@bridgew.edu
Do you have a BSU story you'd like to share? Email stories@bridgew.edu