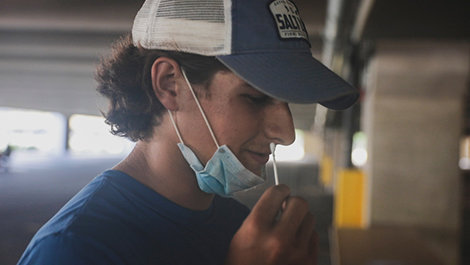 We're looking at a lot of different ways to keep the campus safe.
Dr. Chris Frazer, executive director of the Wellness Center
Safety is always a top priority for Bridgewater State University, which is why the institution is partnering with a prominent Cambridge laboratory to conduct thousands of COVID-19 tests on campus this fall.
The Broad Institute, which is affiliated with Harvard University and Massachusetts Institute of Technology, will provide test kits and analyze samples collected from members of the BSU community. 
"It is essentially a world-class genomics lab which has pivoted their services to help out with COVID-19," said Dr. Chris Frazer, executive director of BSU's Wellness Center.
Testing is critical because people who are infected but asymptomatic can spread the virus without knowing it.
Residential students will be tested when they move in and thereafter every two weeks. Testing will also be available to other students and employees who will be frequently on campus. The university will be able to conduct up to 2,000 tests per week, with results within 24 hours.
Tests will be free, with BSU covering the costs for asymptomatic testing and health insurance paying for testing of people with symptoms.
Bridgewater will use highly accurate polymerase chain reaction (or PCR) tests performed by swabbing just inside a nostril. This is different from the more invasive tests that most people find uncomfortable, Frazer said.
"It's not too much deeper than a person puts in a Kleenex," he said.
In addition to regular testing, students will be educated on minimizing the risk of transmission. Also, recognizing that it is impossible to ensure a COVID-19-free campus, the university is prepared to respond to cases by tracing contacts and setting aside beds for students who need to isolate or quarantine.
"Testing is just one component," Frazer said. "We're looking at a lot of different ways to keep the campus safe."
Do you have a BSU story you'd like to share? Email stories@bridgew.edu.