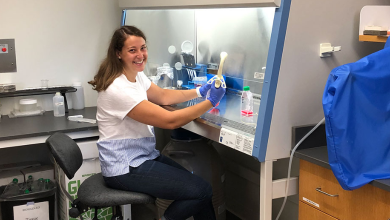 If you are presented with an opportunity, at least try it, you don't want to regret saying no.
Mel Carmichael, '20, arrived at Bridgewater State University with no clear direction of what she wanted to study, though she had an inkling she might enjoy becoming a physical therapist. Instead, she discovered a passion for cellular biology and cancer research.
"I really had no idea what I wanted to do when I came to Bridgewater," said the Pembroke native, "But the professors were always available to talk to and ask questions. Everyone at Bridgewater helped in some way to get me where I wanted to go."
For two years, under the guidance of Dr. Merideth Krevosky, Carmichael researched heat shock proteins and their role in ovarian cancer.
"Basically, I looked at two cell lines in ovarian cancer to try and learn why are some cells are resistant to treatment while others are not," Carmichael said, "It's amazing how a little cell in your body can do the things it can do and wreak havoc."
The goal of her research is to create better treatment strategies that will attack cells resistant to traditional methods, such as chemotherapy.
This past spring, Carmichael presented her research at the virtual Sigma Xi Student Research Showcase. 
She had planned to travel to San Diego to present before the American Association for Cancer Research but that event was canceled because of COVID-19.
For the virtual Sigma Xi presentation, Carmichael produced a video.
"The online format was very different, and I was a little nervous," she said, "But it ended up being a lot of fun. I was able to see the project come together and get the message across about what I've been working on for so long."
She is grateful to Dr. Krevosky for seeing something in her when she took the cancer biology class that led to finding her passion.
"It was the first time I was challenged and enthusiastic about a course," Carmichael said.
Inspired, she abandoned her original plan to pursue a career in physical therapy and opted instead to earn a degree in biology.
"I was hesitant at first, but soon discovered this is what I want to do," she said. "I changed over and stayed two years longer than I was planning to, which ended up being the best decision I ever made. From those two years I gained so much."
Carmichael intends to apply to graduate school, where she can continue to study cellular and cancer biology. Eventually she sees herself teaching in classroom where she can impact students, just as she herself was impacted at BSU.
"If not for Dr. Krevosky, I would have no idea what I'd be doing right now," Carmichael said.
Finding her path in life also required having an open mind, something she encourages other Bridgewater students to consider.
"Take classes you think are interesting, even if you think you have your plan set," she said. "If you are presented with an opportunity, at least try it, you don't want to regret saying no."
Do you have a BSU story you'd like to share? Email stories@bridgew.edu