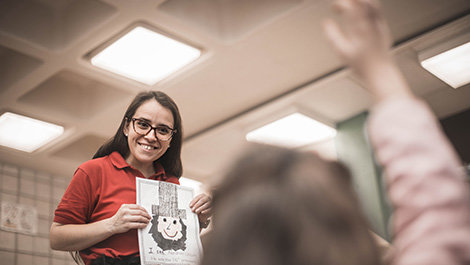 The work is intense. However, what I'm learning is priceless.
These days, kindergarteners in Mónica DaSilva's classroom are more confident communicators, and DaSilva credits her studies in Bridgewater State University's new bilingual education certificate program with making the difference.
"I've already been able to use some of the strategies I've learned in my classroom," said DaSilva, who teaches at New Bedford's Alfred J. Gomes Elementary School.
Following a technique taught in Dr. Ryan LaBrozzi's class, DaSilva has students discuss a question with a partner and then report back to the class. This helps even the quieter children speak out. And that's just one of the new approaches she's learned thanks to the new certificate program.
DaSilva is among the first educators to begin the four-course, online certificate program that focuses on teaching in settings where some instruction is in English while other learning takes place in a different language. The program is offered through the College of Graduate Studies. Administrators hope to also offer the certificate to undergraduates.
The program readies teachers to seek a bilingual education endorsement from the state Department of Elementary and Secondary Education. It comes as Massachusetts schools return to bilingual programs as a viable option for students who do not speak English as their native language.
"Bilingual education models really open up the door for more learning models for students," said Dr. Melissa Keh, an assistant professor in the Teaching English to Speakers of Other Languages Department. "I'm excited about the possibilities for students to have a greater range of programs."
Dr. Emily Spitzman, an assistant professor who coordinates the certificate program, said it will help school districts solve a pressing problem: "How do we increase the diversity among teachers so that they can look like the students who are in front of them?"
With support from a $150,000 state grant, teachers working in Brockton, Taunton, New Bedford and Fall River are among the first cohort of educators enrolled in the certificate program.
"We're fortunate to have a strong partner in Bridgewater State University to help align professional development with the future needs of our increasingly diverse classrooms," said Kellie Jones, director of bilingual education at Brockton Public Schools.
DaSilva is thrilled to learn how to better serve her New Bedford kindergarteners.
"The work is intense," she said. "However, what I'm learning is priceless."
Do you have a BSU story you'd like to share? Email stories@bridgew.edu.