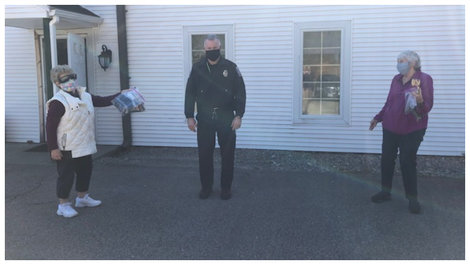 "We could not believe the need was that great."
If there's one thing Bridgewater State University alumna Gloria Moran, G'69 and Evie DeLutis, '63, know something about, it's how to sew. In response to the COVID-19 public health crisis these Bears are doing just that. 
The long-time friends are no strangers to answering the call to help. When they heard there was a mask shortage during the coronavirus outbreak, they got behind their sewing machines and went to work
"We can sew, we have the fabric, and want to do anything we can to help others," said DeLutis, a retired teacher who earned her bachelor's degree in education from Bridgewater.
Moran is also a retired teacher and earned her master's degree in education from Bridgewater in 1969, before participating in a program between Bridgewater State and U-Mass Amherst where she earned a PhD in educational leadership and mathematics education.
Since retiring from teaching the two BSU alumnae have been active with the local Dress A Girl Around the World chapter that meets weekly to create dresses that are then distributed across the globe to young women and girls living in poverty.
When the coronavirus outbreak hit, the group temporarily transitioned from making dresses to creating masks to help protect first responders and other health officials.
In mid-March, DeLutis saw a call out on Facebook from Deaconess Hospital in the Midwest; they were in desperate need of masks for staff and provided directions and a pattern.
"Once I saw that, I knew it would be an easy project for the Dress A Girl women to sew," DeLutis said.
They dug into their existing supplies and quickly got to work. In the first week they managed to make 500 masks.
Word started to spread as the requests for masks increased and became more urgent than ever. In addition to hospitals, the calls came from hospice workers; Old Colony Correctional Center in Bridgewater, local mail carriers, police and the Bridgewater Housing Authority; immunocompromised individuals; friends and relatives.
"We could not believe the need was that great," DeLutis said.
To date the group has made and distributed 1,900 masks.
Moran's home now serves as the distribution center. In between sewing, she sorts, packages orders, and leaves the labeled bags on the front porch for pick up.
"Not one of us has felt confined during this time of self-isolation. We are just so very busy that the days fly," Moran said.
 Others, who may not sew, have offered their help in other ways. One Bridgewater resident's family owns an elastic-making company and donated the elastic necessary to create the masks.
"Each spool of elastic had 141 yards. I can't tell you how many spools we have gone through. Without their generosity this project would not have happened," DeLutis said.
As the orders keep coming in, the group welcomes anyone in the BSU community to reach out and pitch in.
To participate or for more information email DeLutis at evie.delutis@gmail.com.
Do you have a BSU story you'd like to share? Email stories@bridgew.edu