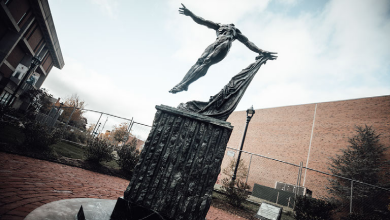 The artwork the Dohertys have donated is essential to improve the quality of our collection and the quality of education for our students.
Susan McCombe, director of outreach and engagement
It's nearly impossible for Becca Todd, '20, to travel across campus and not be reminded of her grandparents, Larry and Kitty Doherty.
That's because for nearly two decades the Dohertys have helped put Bridgewater State University on the art world's map.
The couple, life-long Bridgewater residents, have over the years donated more than 40 works of art to the university, including pieces by internationally renowned artists like Paul Stopforth and Greg Wyatt.
"The efforts of my grandparents have not only impacted me but also had such a great impact for the students on campus," Todd said.
Three years ago, the Dohertys helped to bring Wyatt's bronze sculpture depicting world-famous dancer Mikhail Baryshnikov to BSU. The piece sits in a grassy area between the Maxwell Library and Rondileau Campus Center.
This fall, 15 more of Wyatt's works will be installed next to the Baryshnikov piece to create a sculpture garden. 
"It's important to have sculpture around the campus so when people walk through, they can reflect on it and it takes their mind off of the chaos. They can lose themselves in it," Larry Doherty said.
Beyond the installation, Wyatt himself will be working closely with students and provide internship and artist-in-residence opportunities.
"He is definitely looking to the future and how our students can benefit from working with him," said Deniz Leuenberger, chief of staff and vice president for planning and strategy.
Many on campus are grateful for the generosity and efforts the Dohertys have made.
"This is going to be transformational for the campus because we will be home to a world-renowned artist," said Brenda Molife, vice president of outreach and engagement. "The sculpture garden will be a destination point for many in the art world. It's very exciting."
The relationship between BSU and the Dohertys began when Kitty, a long-time conservation activist, helped connect the campus to the Nunckatessett Greenway trail system.
 "We created a wonderful connection with the university…and started thinking there was so much potential to have public art on the trail system," she said.
Larry Doherty was the right person to bring art to BSU, having made many connections throughout his career. After serving 15 years as director of operations for the Fogg Art Museum at Harvard University he launched his own business, Fine Arts Enterprises, which stored collections for major museums across the Northeast.
"The artwork the Dohertys have donated is essential to improve the quality of our collection and the quality of education for our students," said Director of Outreach and Engagement Susan McCombe. "The results have been a myriad of cross disciplinary lessons, thus creating a rich and valuable experience for our students, the BSU community, and community members in Bridgewater and the region."
As for Todd, her grandparents leave behind a legacy at her alma mater that she is proud of.
"I never knew growing up surrounded by such rich cultural art and stories just how lucky I was. However, seeing it scattered around my college campus is truly so special to me," she said.
Do you have a BSU story you'd like to share? Email stories@bridgew.edu