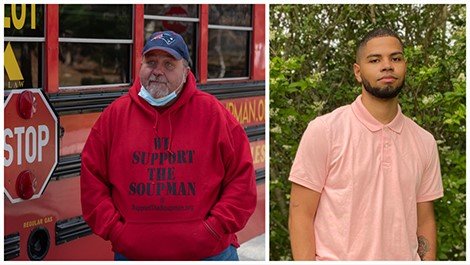 We're pursuing something bigger than ourselves.
The COVID-19 pandemic underscores the challenges facing the many who now find themselves homeless or in need of assistance. It has also helped spur members of the Bridgewater State community to action.
Here are two ways BSU is lending a hand to local nonprofits this holiday season and beyond.
Soup for a Cause
Driving home from campus one day, President Frederick W. Clark Jr., '83, saw a bright red bus. Intrigued, he learned the bus belonged to Peter Kelleher, who is known as the "Soupman." Kelleher pledged to serve people who are homeless, after his son, Travis, died of a drug overdose while homeless himself.
Kelleher started Support the Soupman in 2017 by handing out cups of hot soup. With a fleet of three buses that visit cities across New England, the organization now provides food, clothes, shoes, and even hot showers.
Clark wanted BSU to help given the organizations' focus on responding to the opioid crisis and serving people from Brockton and other gateway cities in the region, namely Fall River, New Bedford and Taunton. Bridgewater staffers aided Kelleher with strategic planning, fundraising, grant writing and other tasks, as he transformed a grassroots effort into a formal organization.
"Bridgewater was instrumental in making that happen," Kelleher said. "I've learned a lot in the four years I've been doing this. It isn't as easy as you'd think to go out and give things away."
Kelleher will welcome BSU students as his first interns this spring. They will gain nonprofit experience at a time when Support the Soupman is seeing increased demand due to pandemic-related job losses and public health restrictions that limit some organizations' capacity to help.
"It's an opportunity for our students to learn about these important mission-driven initiatives safely but also directly," said Dr. Deniz Leuenberger, BSU's chief of staff and vice president for planning and strategy.
Meanwhile, Kelleher never loses sight of the very personal reason he started the effort.
"My motivation is my son and the homeless population. I lost him to the streets," he said. "I've got a lot to do."
A Meaningful Internship
Raekwon Phillips, '21, has long sought to give back. Thanks to an internship at Father Bill's & Mainspring, he sees how he can also have a career helping others.
Raekwon, who is studying communication studies, assists the Brockton-based nonprofit with social media, marketing, graphic design and general office tasks.
"Their mission says no one should be homeless," he said. "I think it's great they're helping the community, as well as the surrounding communities, to really provide for neighbors in need."
Father Bill's provides shelter to hundreds of people and helps those facing or at risk of homelessness to become self-sufficient.
The pandemic forced Raekwon, a transfer student who earned an associate degree at Bristol Community College, to do much of his internship remotely.
"It's helped me a lot being in an actual organization and seeing how they run things," he said. "I get an idea of what it is like to be in a nonprofit organization. It's really going to benefit me in my job search."
Raekwon chose BSU after learning about the communication studies program. He praised Drs. Michele Meek, Thomasena Shaw and Yongjun Shin for connecting classwork to students' careers.
Raekwon's experience at Father Bill's helped him realize nonprofit marketing and communications may be the right path for him.
"I feel there's an actual goal," he said of his internship, which lasts through the spring semester. "We're pursuing something bigger than ourselves."
Do you have a BSU story you'd like to share? Email stories@bridgew.edu.