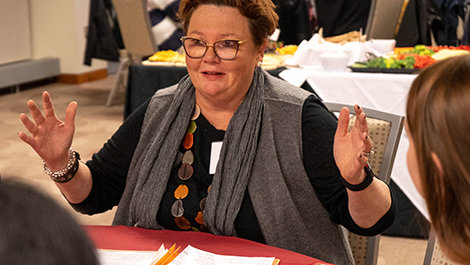 "My experience was so positive at Bridgewater. It was great to be involved. It's also great to stay involved."
Peg Campbell, '83, proves lessons outside the classroom are as important as lectures, homework and exams. Her extracurricular involvement at Bridgewater State taught her the skills she uses today to improve lives around the world.
Campbell served on the student-run Program Committee, through which she learned to build a community of caring people, organize events, and inspire others to give back.
"It was creating a place where people could belong," she said. "What I do now is very much like that."
Campbell works in corporate social responsibility and communications at Philips, a global health and technology company known for its medical products and innovation.
She helps organize a variety of philanthropic initiatives, whether improving access to healthcare in Appalachia or bringing technology to developing nations. Philips also works with The March of Dimes to run educational baby showers for U.S. military families. The showers provide resources and information, helping ease the strain of parenting while one spouse is serving overseas. The company often partners with charities on its initiatives.
Employee buy-in and grassroots support is important for Philips to achieve its goal of helping 3 billion people a year by 2030, and Campbell is familiar with that mindset. After all, the Program Committee's activities were student-driven. 
"That was life changing for me in terms of learning to do events and programs and motivate people," said Campbell, who has worked at Philips for two decades.
When she arrived at Bridgewater, she wasn't sure what she wanted to study. She ultimately majored in communications, since the field is applicable to many careers. She also minored in health. 
Campbell praised professors for encouraging students to pursue experiential education. She fondly remembers an internship teaching at a community center with Dr. Genevieve Fitzpatrick, a health professor. Mentoring her were Drs. Rick Veno and Linda Ragosta, who managed the Campus Center and oversaw student development programs.
She is impressed by her alma mater today. Business students wowed her with their investment skills when she recently observed their final presentations. And, she shared wisdom with students at a special event last semester.
"My experience was so positive at Bridgewater," she said. "It was great to be involved. It's also great to stay involved. We can help the next generation of people." (Photo by Mackenzie Rubitschung, '21)
Do you have a BSU story you'd like to share? Email stories@bridgew.edu.