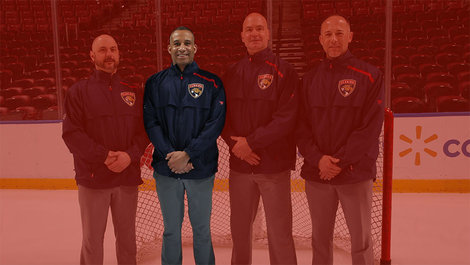 My entire time at Bridgewater State molded me for something greater that I didn't see at the time.
The players weren't the only ones impacted when the National Hockey League was forced to postpone its season due to the coronavirus. The move also affected members of the professional staff who support the league's players, including Bridgewater State University alumnus Mike Valcy.
The 2001 graduate is a massage therapist for the Florida Panthers, a position he has held for nearly five years.
"The good news is I work on a contract, so my pay hasn't been interrupted," he said. "We are all in appreciation mode, we have great owners."
Now that the team is allowed to practice on the ice three days a week, Valcy is back at it, helping players prevent injury through massage therapy. 
His temperature is taken before he enters the building and he is tested twice a week for COVID-19. Gloves and masks are always worn, and social distancing protocols have been put in place.
"It's different, but we are all following the rules and grateful to be back," he said.
Valcy's path to becoming the Panther's massage therapist began after he graduated from Bridgewater State with a degree in political science.
"Twenty years ago, did I think I would be a massage therapist for a pro sports team? No way," he said.
But the things he learned at Bridgewater helped him along the way.
"It's been many years, but I think my undergraduate experience, everything I did, from the academic to the extra-curricular, engaging with all types of people from different backgrounds, that kind of led me to everything I'm doing now," he said.
Valcy grew up in Brockton where he played football and ran track in high school. He came to Bridgewater because it was close to home.
Once enrolled and taking classes, the support of several Bridgewater professors is what guided him.
"The best lesson I learned from them is, you don't need to know what you're going to do in 20 or 30 years. Instead, focus on the now," he said. "Become really good at what you're working on right now and that will help you decide where you end up."
Focusing on the now, initially meant a successful career in real estate that took Valcy to San Diego, San Francisco, New Orleans, and even a remote island off the coast of Puerto Rico.
Along the way he also earned his master's degree in business management.
Eventually, Valcy landed in Miami, where he decided to switch gears.
The former athlete was always interested in sports massage and body mechanics, so he went back to school to earn an associate degree in massage therapy.
He slowly built up his resume and today works not only with the Florida Panthers but also other professional athletes including Olympic swimmers, tennis players, golfers, soccer and baseball players.
Looking back, Valcy realizes the same step-by-step method he applied as an undergraduate at Bridgewater State has become his mantra.
"Had I gone somewhere else my life would have been completely different. I'm grateful for how it turned out," he said. "My entire time at Bridgewater State molded me for something greater that I didn't see at the time."
Do you have a BSU story you'd like to share? Email stories@bridgew.edu