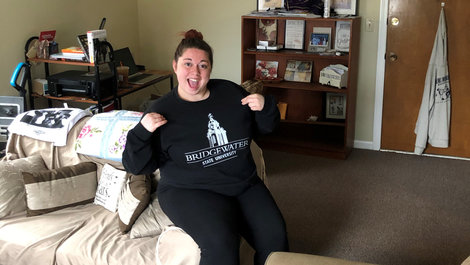 "Relief feels like too small a word."
When restaurants were forced to close their doors in response to the COVID-19 public health crisis, millions of servers around the country, like Bridgewater State University senior Nicole Shiffler, were suddenly without a job.
For Nicole it was her only source of income.
"I've been living on my own since I was 18," she said. "I am a very independent person and losing all of my income was the scariest thing in the world."
The New Jersey native lives in an apartment off campus and when she found herself jobless, she had no idea how she was going to come up with her rent or pay her bills.
"I was at a total loss, I wasn't sure how I would finish my senior year. It was all incredibly scary," she said.
Overwhelmed, but still determined, Nicole filed for unemployment but unfortunately wouldn't see her first check arrive for almost a month.
As her parents still claim her as a dependent, she does not qualify for the government's Coronavirus and Economic Impact Payments. Her prospects for staying afloat were becoming increasingly bleak.
"I was stressed out. I was trying to make ends meet and keep my head on straight," she said.
The political science major had a hard time focusing on her academics, and one day asked her professor, Dr. Melinda Tarsi, for an extension on an assignment. In her email she also shared the details of her financial crisis.
Dr. Tarsi not only granted the extension but also encouraged Nicole to apply to the BSU COVID-19 Student Emergency Fund.
"I had no idea there even was such a thing," Nicole said.
She filled out the application and discovered she qualified. BSU then used money from the fund to cover her rent and sent the payment directly to her landlord. For the first time in weeks, Nicole felt like she could breathe again.
"Relief feels like too small a word," she said. "I'm not really sure my mental health would have held up. Financial stability is everything."
Eileen Estudante, director of Student Outreach and Special Programs, is one of the BSU community members who oversees the regular student emergency fund. When businesses were forced to shut down because of COVID-19, university officials quickly recognized that many students and families were going to likely lose their jobs and sources of income. 
In response BSU created the COVID-19 student emergency fund to provide immediate assistance to those experiencing hardships related to COVID-19.
Helping students like Nicole is why the fund was created, Estudante said.
"These are very uncertain times and as difficult as they are for us to try and navigate, it is so much more challenging and painful for our students," she said.
The need is great. As of April 29, BSU has received 599 applications from both undergraduate and graduate students, and to date has provided approximately $330,000 to 438 students.
According to Elizabeth Dubuque, director of alumni and development, the applications are greater than the funding available. BSU is currently seeking donations for the COVID-19 student emergency fund in order to continue meeting its student needs.
"Supporting this fund is a commitment to our community and to our students and provides such a sense of hope," Dubuque said. "It is so important to help our students progress toward completion of their degrees and more often than not, this type of financial support is a game changer."
Nicole can attest to that.
"Getting this help has allowed me to continue, to finish, and to have this time and be able to focus on my schoolwork. It's the greatest feeling in the world," she said.
And when BSU finalizes a new date for commencement ceremonies for the class of 2020, Nicole will be there.
"Every student has a different experience, but we all worked so hard for that moment," she said. "I want to walk across that stage and see my parents out there…it's validation and I hope a lot of students will have the opportunity to go."
To apply for assistance there is an online application. For those in a position to donate visit, https://alumni.bridgew.edu/studentemergency. Checks can also be made payable to BSU Foundation and mailed to P.O. Box 42, Bridgewater, MA 02324. 
Do you have a BSU story you'd like to share? Email stories@bridgew.edu