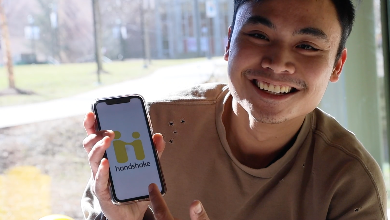 This gives us more access to employers and internships that maybe we didn't have access to before.
Laurent Troland, Career Services assistant director
Anyone who has ever looked for a job knows it can be a daunting and overwhelming experience.
Bridgewater State University recently made it easier for students and alumni to find the career they want through Handshake, the largest career-development platform in the country.
In January, the Career Services and Internship Program Office transitioned from the Hire BSU system to the Handshake platform. With more than 400,000 employers and a network of more than 700 schools, Handshake offers 3.5 million jobs and internships across all industries for students and alumni to explore.
"This gives us more access to employers and internships that maybe we didn't have access to before," said Laurent Troland, Career Services assistant director.
Senior marketing major Francis Raboy registered with Handshake and likes how streamlined and easy it is to use.
"It feels more professional and is up to current tech standards, it's not as clunky," he said.
Francis likes that employers use the platform to recruit college students. He's also found it helps fine tune his skill set.
"I hope to get a better understanding of what employers in the industry are looking for so I can tailor what I'm doing in school," he said.
The program is free to all BSU students and alumni. Upon visiting the site, users are asked to create an account and are then prompted to answer questions to curate a homepage specific to each user.
From there, students can look for jobs and internships and network with students at other universities and colleges also enrolled in Handshake.
The platform can also be used to sign up for campus programs such as the BSU to Boston program or Ocean Spray site visit.
"It really will help to integrate everything in one place," Troland said.
Ultimately, Handshake's ability to provide more opportunities is what excites him the most.
"It will give students access to companies and organizations that didn't necessarily target Bridgewater before," he said.
It also shines a light on the quality of students that come through BSU, which will encourage companies and businesses to take a closer look at the school.
To date, 1,600 BSU students and alumni have signed up for the platform, but Troland said his office is pushing for more.
All current students are already in Handshake and can log in using their full @student.bridgew.edu email address as their username and the corresponding password.
Faculty and staff wanting access can use their bridgew.edu email address and create an account as an alumni. Visit: https://bridgew.joinhandshake.com/login and click on "No Account? Sign Up Here" in the upper right-hand corner.
For more info contact BSU Career Services or the Internship Program Office at 508-531-1328.
Do you have a BSU story you'd like to share? Email stories@bridgew.edu